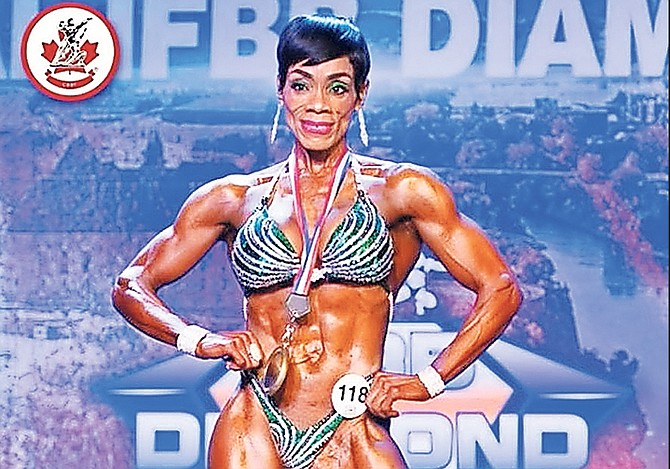 By BRENT STUBBS
Senior Sports Reporter
bstubbs@tribunemedia.net
In making the adjustment in training with her coach/husband Glen Stubbs to produce a "complete package," Grand Bahamian Tammy Stubbs returned to Canada and became the latest Bahamian bodybuilder to receive her professional card.
At the International Federation of Bodybuilding and Fitness (IFBB) Diamond Cup Montreal 2018 over the weekend of October 5-6 in Montreal, Canada, Stubbs won both the open body fitness B and masters 35-and-over divisional titles.
With Glen Stubbs in the audience cheering her on, Stubbs went on to capture the body fitness overall crown to earn her pro card after she missed out on a trip there last year.
"I've been in bodybuilding for 13 years now, so it's good that I finally got the pro card. All the hard work has finally paid off," Tammy Stubbs told The Tribune on her return home. "I was fourth last year, but I went back for more trouble. I did my homework and I became a winner. The difference was knowing that I knew what package I had to bring and I brought it. I tried to get smaller and that was the difference."
The 40-year-old accountant at Freeport Harbour Company joined a list of Bahamian pro bodybuilders, including Bahamas Bodybuilding and Fitness Federation president Joel Stubbs, Natasha Brown, Jena Mackey, James 'Jay' Darling, Jamiel Hamilton, Lakeisha Miller, Enderich Rahming, Lorraine LaFleur, Jimmy Norius, Angelike Wallace-Whitfield, Tanya Moxey-Cleare and Charnice Bain.
They are joined by Charles Kemp, Gerrino Mackey and Teddy Gray, who all reside in the United States.
But for Tammy Stubbs, she's extremely thrilled to be the latest Bahamian pro.
"There were some pretty good looking girls out there walking around, but I knew I had a nice lean body, which was what the judges were looking for," she stated. "I also had the symmetry and the broad shoulders, which figure bodybuilding is all about.
"So I knew I had the total package compared to the other girls who I competed against. That was the difference for me in both categories. I knew when we left here, we had put in the work to get the job done. That's what I did. It was a long time coming. But I'm glad that I finally got it."
While they work out as a husband-wife team of 19 years at the GB Fitness in Grand Bahama, Tammy Stubbs also takes the time to train a few clients of her own in her spare time, while Glen Stubbs also works with his clientele online on his page glenstubbsteamphysique.
But as Tammy Stubbs politely puts it, her emphasis was on ensuring that she got ready to soar to the next level.
"I'm just taking it all in now," she said of her newly minted accomplishment. "We've done the work and now I'm a pro so I'm basically on my own trying to find the various meets to go and compete in.
"The federation has some pros, so we will see how that works out, whether or not we go to the same shows or not. But I have to look out for what is best for me because I have to start making the money now."
By February or March, Tammy said she and Glen will be looking at making her pro debut.
"We're going to continue to work together and put our mind finding the best course of direction to travel," she said. "We did it together to get here as a pro and now we are going to look at what is best for us as a team as we move forward. "I'm the heart of it. I have to go out there and present myself. But behind the scenes and whenever I'm out there competing, he's been right there pushing me along the way. I'm really looking forward to competing as a pro and making the Bahamas very proud."
Having paid her dues along the way, Tammy Stubbs encourages those who are competing and looking to get to the professional ranks as well to never ever give up on their dreams.
"You have to want it and want to do it bad," she stressed. "You also have to be humble and take criticism from people, especially those in the sport, and just push and go on.
"Just keep your mind blocked from negative people. As long as you know where you want to go and where you are headed, the sun will shine for you. It's not going to be easy for everybody. It took me 13 years to see the sunshine, but I did it. Your time will come."
For now, Tammy said she just want to relish in her success with Glen before she start preparing for the road ahead of them as a professional bodybuilder.