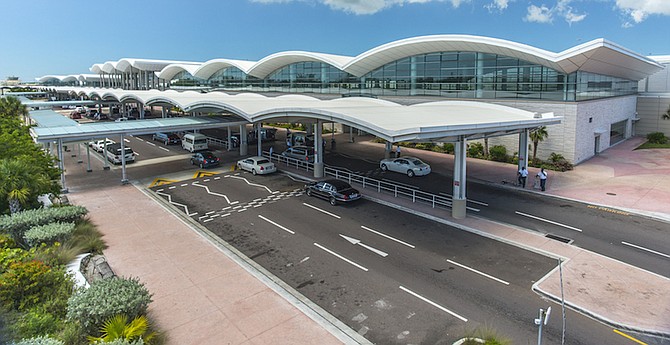 By NEIL HARTNELL
Tribune Business Editor
nhartnell@tribunemedia.net
Nassau's airport operator is exploring a $125-$130m debt refinancing that could produce "a win-win for everybody", a Cabinet minister revealed yesterday.
Dionisio D'Aguilar, minister of tourism and aviation, told Tribune Business that the move was designed to increase local ownership of this nation's primary "gateway" besides slashing the Nassau Airport Development Company's (NAD) annual interest bill.
Outlining the Lynden Pindling International Airport (LPIA) operator's goals, Mr D'Aguilar said the refinancing aimed to convert existing US dollar debt into Bahamian dollars. Besides opening up the possibility of greater Bahamian participation, he added that this would also reduce the drain on external reserves caused by servicing the current debt.
"We are considering the refinancing of $125-$130m of participating debt for NAD," the minister confirmed to this newspaper yesterday. "The participating debt was really the portion of the debt that had a two percent fixed rate and 11 percent floating rate.
"This meant two percent of interest was to be paid every year, and 11 percent of it, in the instances where NAD decided not to pay that interest, was deferred to a future date."
The deferred interest was thus capitalised and added to NAD's outstanding debt, Mr D'Aguilar said. "It [the participating debt] started at around $80m, and over the years it has transpired to grow to $125m or thereabouts," he added. "It was in total 13 percent, and by the time you converted to US dollars it was 15 percent because you had to pay the conversion."
The minister said NAD's established performance track record, and increased passenger traffic as a result of Baha Mar, combined with The Bahamas' low bank deposit rate/high liquidity environment, were key factors influencing the decision to explore a refinancing that could cut the annual "participating debt" interest bill by around 50 percent.
"I charged the board of NAD with looking at a less expensive model," Mr D'Aguilar revealed. "When NAD was created in the first decade of this century, around 2007-2008, and raised capital it was obviously in a very difficult financial period and this was what you had to do to get capital.
"Now, we're in a better period, and we have some statistics to pull on to show NAD is self-sustaining, numbers are growing at the airport and it's a going concern. There are risks associated with companies that are not a going concern. We felt we should refinance, and refinance as much of it as possible in Bahamian dollars.
"It's the gateway to the country," Mr D'Aguilar continued. "Therefore, if you have money sitting in the bank at 1 percent or less, we could refinance this 13-15 percent debt at 7-8 percent. It will be a win-win for everybody.
"NAD would get a lower rate of interest and it would provide an investment opportunity for Bahamians in one of the major gateways in the country. I think it's a win-win for everybody. This would be the ideal time to do the refinancing."
The Minister suggested that the refinancing could cut NAD's "participating debt" servicing costs from around $18.75m per year to between $9.375m-$10m, producing an interest bill savings of around 50 percent. He added that around 40-50 percent of this debt tranche is currently held by the National Insurance Board (NIB).
NAD's debt, which was taken on to finance LPIA's $409.5m redevelopment, is split into several layers or tranches. The "participating debt", which accounts for around 25 percent of NAD's total $500m-plus debt, is understood to be the second layer, meaning its holders would rank behind those owning its senior secured debt in any creditors queue.
Mr D'Aguilar said the Minnis Cabinet had given NAD approval to "actively explore" the refinancing, which he hoped to "roll out very shortly". While declining to give a precise timeframe for its launch, given that investment bankers were still assessing capital markets appetite, he hinted that a date before 2018 year-end was being targeted.
"Cabinet has given the green light to explore it and roll it out if it makes sense. The investment bankers are looking at it, and how best to structure it, and if there's an opportunity for it," Mr D'Aguilar said.
"Between 7-8 percent is an attractive rate for those sitting with money in the bank. I would invest in it because I'm getting very little interest in the bank, and we want to make it available to as many Bahamians as possible.
"It's presently all US dollars, and the objective is to convert as much as possible to Bahamian dollars to provide investment opportunities for Bahamians and so it's not a drain on the foreign reserves."
The Minister admitted that "naysayers" will argue the minimum $50,000 investment threshold places the NAD refinancing out of reach of Bahamian retail investors, but he said many could qualify through accounts they have with broker/dealers and as pension fund beneficiaries.
NAD's total interest bill is currently a hefty $42.305m, which has played a large part in the financial losses sustained in the years since its creation. The airport operator incurred a $14.153m net loss for the year to end-June 2017, and a $56.5m total deficit, but said this is "not a significant concern" as it continues to meet all payments on its $500m-plus debt.