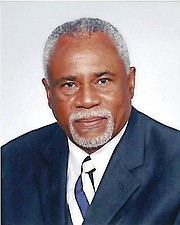 ARNOLD F Bain Jr, a Bahamian who had a stellar track and field career at Howard University in the 1960s, has been selected for inclusion into "the 2018 Class of the Howard University Hall of Fame as a member of the 1968/1969 track and field team."
Bain, who has been active in the administrations of several sports organisations in The Bahamas over the years, was informed of the high honour in a letter from Howard Bison Express Chairperson Bruce H Williams.
"It is our great honour and our pleasure to acknowledge you once again on your selection into the 2018 Class of the Howard University Hall of Fame as a member of the 1968 and/or 1969 Track and Field Team," Williams wrote in his congratulatory remarks.
"We hope that you will return home to the Mecca and join us in November 16-17, 2018 for a weekend of activities to celebrate you, all highlighted by your induction ceremony."
The installation ceremony and dinner will take place Friday, November 16 beginning at 7pm at the Martin's Crosswinds, 7400 Greenway Center Drive, Greenbelt, Maryland.

"The next day, the football team will play 'The Hall of Fame Game' against Bryant University in Greene Stadium," Williams noted in his letter to Bain. "During the game's halftime you and the rest of our honourees will receive special recognition and congratulations."
The Hall of Fame Weekend is sponsored by Bison Express, the official alumni support organisation of Howard University Athletics in conjunction with the University's Department of Intercollegiate Athletics.
"Once again, please accept congratulations from the membership of Bison Express and the entire University community for your outstanding contributions to athletic success at Howard," Williams' letter stated. "I look forward to meeting you and honouring your tremendous accomplishments during Hall of Fame Weekend."
Contacted in Nassau for a comment, Bain said although it took almost 50 years, he's extremely grateful for the honour. "Being voted into the Hall of Fame class of 2018 by Howard University means that from now on, whenever anyone enters the hallowed halls of this renowned university, my photograph and accomplishments will be there under the name Arnold F Bain Jr, Nassau, Bahamas," he said.