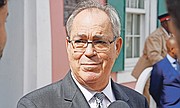 By AVA TURNQUEST
Tribune Chief Reporter
aturnquest@tribunemedia.net
THE lack of clarity over the entitlement to Haitian citizenship for second and third generation children born in the country is an issue for the Haitian government, not The Bahamas, according to Immigration minister Brent Symonette.
Mr Symonette maintained people that fell into this category were not stateless; however, in an interview with The Tribune he admitted he was unsure whether the unregistered grandchildren of undocumented Haitian nationals were entitled to Haitian citizenship.
This entitlement, however, is a key element of the government's stance against classifying people like 16-year-old Taranique Thurston as stateless.
The Haitian embassy in Nassau has repeatedly denied requests for further clarification.
"The story is not gelling," Mr Symonette said.
"(Haitian officials) They are probably saying the mother was born in Nassau and the child was born in Nassau as well," Mr Symonette said.
"I was under the impression it was three generations."
When asked if the state had any obligation to intervene, Mr Symonette said: "The Bahamas should be prejudiced because a person born in those circumstances doesn't bother to register over there? See the loop hole that opens? That's why we're changing the law.
"That's a Haitian issue, and not a Bahamian issue," he added.
Mr Symonette was responding to The Tribune's coverage of sick teen Taranique Thurston, and scathing criticism of the country's immigration laws leveled by US congresswoman Frederica Wilson last week.
"It would have been better if she'd kept her political agenda with herself because the United States has a number of difficulties with its immigration law. Ours is very clear: to be born in the Bahamas to Bahamian parents, you're Bahamian. If you're born to non- Bahamians parents certain aspects of the law applies. This woman (Taranique) is not stateless," he continued.
"It's very unfortunate to use the press to hype up a medical condition."
Taranique, 16, does not have a passport, and her journey to gain entry to the United States on an emergency medical visa has renewed concerns over the unregularised status of Bahamas-born children of second generation foreigners, mainly those of Haitian descent, who were also born in the country.
"There is no statelessness," Mr Symonette said, "let's leave statelessness out of it. She has a constitutional right to apply when she's 18, which will be in two years this month or last month. She has the right to a Haitian passport which she can get, and she arguably had the right to apply because her mother had been nationalised, which she didn't."
Mr Symonette noted Taranique's first application for a belonger's permit was made in 2016, and a recent request for the teen to come into the Immigration Department was not acted upon by her lawyer, Fred Smith. However, yesterday Mr Smith said he never received such an invitation.
"I think these things are very well known throughout the community," Mr Symonette said, "I do hundreds of them a week. We've got to get away from a very simple factor. I've said to you and others many other times before, if you're born The Bahamas to non-Bahamian parents you have a right to apply at the age of 18. You are not Bahamian until then, end of, full stop.
"Unfortunately people don't carry that," he added, "they're carrying this issue that she's Bahamian and she's not."
Mr Symonette noted the belonger's permit was enshrined in law by the former PLP administration, noting its condition that the mother of the applicant hold a passport discouraged many from registering.
"That's the law, so what they do is they don't get a passport and they don't apply, then they wonder why their children can't go to school, but who's paying the taxes for all these people to go to school? All of us.
"Maybe we need to pass the law everyone in the country needs to have a passport."
"So if you haven't got a permit, you've broken the law," he continued.
"A lot of them don't come in here to apply for that, so why should we then go to the next step? The law is for people to abide by, not to abuse. We actually relaxed it with schools but when we enforced it everyone was jumping up 'oh you keeping my little Johnny out of school' but there was an obligation to apply."
Mr Symonette added: "You can't sit back, do nothing and then try and use the law to your advantage to get something you either knew, or were aware of, or didn't think about trying to get. You can't do that, and I think in a lot of cases people know what they are doing.
"It goes to show you've taken steps to show you're maybe not a Bahamian, and they're not going to do anything to breach that. So it is a big problem."
As for Mrs Wilson, he noted the South Florida representative's comments could spur unintended consequences for her electorate given the critical need to address the gaps she highlighted by closing borders - not opening them up further.
"She is probably doing her residents a disservice by pushing this issue because there will have to be closure of some of these - you called them loop holes, some of these ambiguities," he said.
"Haiti would have to change miraculously in its economics to stop people willing to leave."
Last week, Mrs Wilson called on The Bahamas government to modernise "antiquated" immigration laws that she claims disenfranchises communities and disadvantages future generations.
She also called on CARICOM to prioritise growing migration issues.
Mr Symonette said: "I need a visa to go to the USA, so please. Her president is building a wall so Mexicans can't go across the border. So instead of playing to her constituents, let's look at our laws and she can look at her laws."
Mr Symonette added: "I don't comment on the US immigration law because that's their sovereign law, and unfortunately the Bahamian laws are sovereign laws and I respectfully suggest that persons should not dictate or try to dictate to us through the Miami press as to what our laws should be. We are a sovereign country."