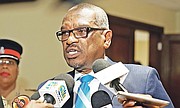 By AVA TURNQUEST
Tribune Chief Reporter
aturnquest@tribunemedia.net
PRIME Minister Dr Hubert Minnis has insisted he would not present the country as a "banana republic" on the international stage as he defended the size of his delegation at the recent United Nations summit.
He used the phrase during remarks at a town hall meeting in the Berry Islands on Saturday.
"I just returned from a UN meeting," he said, "and then I hear many talking about 'oh Minnis and others wasting the taxpayer's money, carrying all these people here, and carrying all these people there.' Let me just give you a brief synopsis about how this thing works. The UN meeting is an annual meeting, a time all of the world leaders, every leader throughout the world meet, and they would present on the issues."
He continued: "There were those who said Minnis carried too many people, but this is what they want me to do. As I attend those meetings I must speak on their behalf, so they want just myself and my aid to travel to represent you.
"I must write the speech, I must edit the speech, I must type the speech, I must present the speech and I must listen to everyone so that I can make changes if necessary. If I can't do it then he (Minnis' aid) must do it," he said hypothetically.
"Then when I'm finish there, I must run to the meeting with all of the foreign affairs ministers and secretaries of states of the world. I must then write the speech there, edit the speech, type the speech, deliver it, then after finishing that I must run to the health sector and I must write the speech there again.
"Now I may be energetic," he said, "but I'm no superhuman. It is essential for you to take individuals who are going to do research. It is essential for you to take individuals who must help in the preparation.
"It's essential for you to have individuals who would represent you at the foreign affairs meeting, at the health meeting, at the investment meeting, one man cannot do it."
"But they say we are wasting their money, but they want me to go off and represent you as if we are some banana republic.
"But we are no banana republic," he added, "and we will do it right."
The government has not released any details on the cost of his recent trip to the United Nations' 73rd General Assembly; however, last week Dr Minnis tabled a list of 17 officials, including his wife, Patricia, who made the trip to New York.
Asked to reveal the cost of this trip, Dr Minnis told reporters his international travel budget is published within the annual budget released every June.
While in opposition, the Minnis-led Free National Movement criticised the Christie administration for what it termed, "wasteful expenditure" for travel allocations. Throughout that term, the FNM slammed the PLP for both the frequency of trips and the size of the delegations.
When elected last spring, the Minnis administration promised to curtail government spending on travel and give the public a full accounting of every trip made.
Those accounts, as proposed, would include details of the trip's location, duration and purpose.
Those "travel spreadsheets" are not expected to be released before year's end, according to Press Secretary Anthony Newbold in May.
The UN group also included Foreign Affairs Minister Darren Henfield, Transport Minister Renward Wells, State Grand Bahama Minister Kwasi Thompson and his wife, Tamicka, and Parks and Public Beaches Authority Chairman Shanendon Cartwright.
Bahamas Maritime Authority Chairwoman Denise Lewis Johnson, Viana Gardiner, chief operating officer of the Prime Minister's Delivery Unit, senior policy advisor Joshua Sears and deputy permanent secretary in the Ministry of Foreign Affairs Eugene Newry also attended. Both Dr Minnis' personal assistants travelled along with two of his police aides, an aide to Mrs Minnis and a reporter and cameraman from the Broadcasting Corporation of The Bahamas.
The delegation left Nassau on September 23 and returned on September 29.