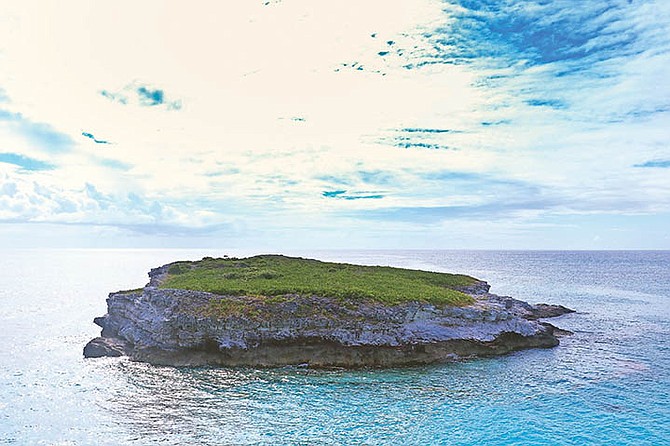 By RICARDO WELLS
Tribune Staff Reporter
rwells@tribunemedia.net
THE two groups vying for the acquisition and development of Lighthouse Point in Eleuthera have not yet carried out a full environmental impact assessment for the proposed projects.
Development regulations mandate that any project, similar to those being proposed for Lighthouse Point, must include an EIA prior to approval, according to the Planning and Subdivisions Act, 2010.
To date, neither Disney Cruise Lines nor the Lighthouse Point Partners (LPP), have carried out a full EIA.
According to the law, an EIA is required to be submitted to the Department of Physical Planning as part of any proposed type of development which is either likely to give rise to significant effects on the environment, of national importance, proposed for sensitive lands, significant in terms of size or complexity, of a nature that may have potentially adverse environmental effects or is considered a development of regional impact.
The purpose of the EIA is to identify potential impacts, positive or negative, of a proposed development.
Prime Minister Dr Hubert Minnis is expected to make a decision on the property's future tomorrow.
Last month, Disney revealed that it had a sales agreement in place to purchase Lighthouse Point, however, admitted that closing that deal was subject to obtaining all the necessary government permits and approvals. A process inclusive of completing an EIA and one the cruise line said it was still working through.
The company, according to its vice-president of public affairs, Kim Prunty, has only conducted preliminary environmental and marine/navigation studies.
Those studies, also according to Disney, showed "little to no dredging" would be required at Lighthouse Point if the company proceeded with its plans for the property.
Conversely, Disney maintained a "complete" EIA would be carried out once it is successful in gaining government approval.
There has been no confirmation by the government nor Disney on whether the two sides have held formal talks.
Representatives from LPP yesterday said delays in meeting with Dr Minnis on their proposal, slowed the urgent need for them to have an EIA completed.
Eric Carey, director of the Bahamas National Trust, one of the organisations that comprises the LPP, yesterday said EIA procedures could not yet be levied on the coalition because it had not been given a formal notice of consideration.
"We've been after the government for a meeting," he said. "We got one on Friday and are awaiting a response related to that. We will have to proceed accordingly based on what the feedback is, whatever that may be."
On Friday, LPP presented its new phased development proposal to officials from the Office of the Prime Minister.
Dr Minnis did not attend the meeting, according to a representative for the coalition.
Nonetheless, the group's 42-page proposal centred on establishing a Lighthouse Point National Park on the multi-acre peninsula.
The national park seeks to preserve the site's natural and cultural assets, according to the coalition's proposal.
The park would feature 800-acres of preserved natural environment; an extensive trail system with boardwalks and interpretive signage; a visitor centre; viewing platforms and towers; improved access roads and sustainable infrastructure; a weather station; marine conservation and environmental education programmes and an extensive marine protected area.
Additionally, the group has proposed constructing a sustainable development which will include a 100-unit eco-lodge and a learning and research centre with space to accommodate a 20-person class on a 100-acre site adjacent to the national park.
The proposal also noted the project is designed to stimulate and facilitate economic opportunity in the surrounding communities by attracting internationally-recognised, best-in-class eco-tourism brands as anchors to provide the stable economic underpinning upon which local entrepreneurship could operate.
The coalition claims the project should yield permanent economic contributions of 190 jobs, $7.7m in annual earnings, $13.76m in economic output annually, $11.56m in annual GDP increase and $300,000 in annual NIB payments.
This, the coalition says, would be in addition to one-time economic contributions of 166 persons per year for construction, $11.25m in earnings, $16.9m in economic output, $14.3m one-time GDP increase and $438,000 in NIB payments; over two years of construction.
Over the last decade, One Eleuthera had pitched a previous proposal to local organisations and successive governments, hoping to secure funding and support for its initial bid to acquire Lighthouse Point.
The major difference in what was presented on Friday and that initial proposal, comes in the clarification of the organisation's funding.
One Eleuthera has, in the past, been reluctant to disclose its sources of financing, an issue that has led many residents in Eleuthera to speculate that the foundation was being funded by donors positioning themselves to acquire the property for their own self-interests.
However, the proposal put forward on Friday included letters of "financial capability" submitted by the Leon Levy Foundation trustee Shelby White and One Eleuthera's president and chair, Lane Glaze - a combination which has raised and invested in excess of $16m in Eleuthera, according to the proposal.
Additionally, signed and dated letters of interest and support were included from the Little Island Group's owner and CEO, Ben Simmons; the Holowesko Partners, Mark and Lauren Holowesko; and the Bahamas Boutique Hotels Group Limited chairman, Peter Andrews.
The proposal also featured a phase-cost breakdown for the $23m development and the prerequisite land acquisition cost.
The first and second phases of the development - pre-development and initial national park improvements and an expanded visitor centre and national park amenities, respectively - a $7m value, would be covered by the coalition.
Phase three, the construction of the eco-tourism resort and supportive amenities, estimated at $10m plus in the proposal, would be covered by unnamed development partners.
Lastly, phase four, the research, education and training facility, estimated at $6m, would be covered by the coalition and various grants.
The coalition also would cover land acquisition costs.
The group's 42-page pitch also noted that the development would be constructed and laid out over three to five years.
Supporters of the coalition have sought to block Disney's acquisition of Lighthouse Point, claiming the cruise line's plan would be unsustainable and hazardous to Eleuthera's eco-system.