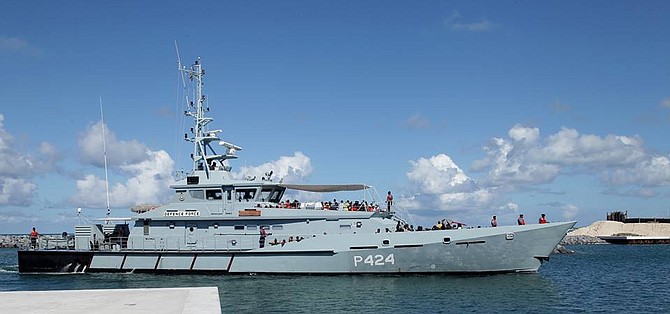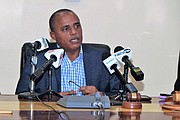 By MORGAN ADDERLEY
Tribune Staff Reporter
madderley@tribunemedia.net
NATIONAL Security Minister Marvin Dames yesterday said foreigners poaching in Bahamian waters are "totally unacceptable" and underscored that law enforcement agencies have a "vested responsibility" to protect the country from any acts of terrorism and illegal smuggling.
Mr Dames' comments came in the wake of a shooting incident between the Royal Bahamas Defence Force (RBDF) and Dominican poachers over the weekend. No Bahamians were injured while 124 Dominican crew members were arrested.
Mr Dames could not say whether the poachers also will be charged with attempted murder, adding that all the facts of the incident are not yet known.
The national security minister added diplomatic tactics must be used "first and foremost" to address the issue of poaching, in addition to increasing marine presence in the southern Bahamas, and possibly stiffening legislation.
When asked what more could be done to protect marines and stop poachers, Mr Dames acknowledged that this has been a longstanding issue facing the country.
"We recognise as a government that we have to address it," Mr Dames said. "So we're moving very quickly…to ensure that we have a constant presence in the southern Bahamas.
"That is… completing the Sandy Bottom project, putting in place bases that will allow our marines to work from. In terms of being equipped…we would have invested as a country some $230m on a project which is the refurbishment of vessels, the addition of equipment and technology and training. And so we're equipped to deal with the issues.
"Myself and (the) Minister of Foreign Affairs (Darren Henfield) have been addressing this particular issue over the weekend and we've been following it very closely, and so has the prime minister," Mr Dames continued. "And we understand that we must find a diplomatic, first and foremost, diplomatic way to address this along with our neighbours."
Mr Dames added Foreign Affairs Minister Darren Henfield had "probably already" reached out to the government of the Dominican Republic.
Mr Dames also said that while The Bahamas always seeks "peaceful" negotiations in these matters, having foreigners poaching in our waters cannot be accepted. He added that the RBDF is looking at strategies that can be used to better identify and interdict poachers.
"Our defence force and our police force in particular have a vested responsibility to protect the sovereignty of our country and to ensure that our marine resources are protected for Bahamians and we take that very seriously. As well as to ensure that our nation is safeguarded from any acts of terrorism or gun smuggling or drug smuggling."
Mr Dames added that current legislation is currently being reviewed, with a means of stiffening it.
When asked if the poachers could be charged with attempted murder, Mr Dames said the investigation is not yet complete. He added that there will be a multi-ministerial approach to the matter.
"This matter, we don't have all of the facts…We know that there was an incident at sea when the defence force officers attempted to interdict. We still don't have all of the facts . . . And so we have a team of investigators who will work closely with the (RBDF) and other ministries (such as) the Department of Fisheries … and from the diplomatic side, the Ministry of Foreign Affairs."
Mr Dames also addressed threats made on the RBDF Facebook page in July by foreign nationals, allegedly Dominicans, after 46 Dominican poachers were charged in Bahamian courts.
"I know that the police would have opened up an investigation. I don't think that it would have reached a point whereby persons were identified and subject for arrest," he said.
Regarding the presence of RBDF officers at crime scenes, Mr Dames reiterated that the country is "too small" to be "policing in isolation". While he could not provide the exact figure of RBDF officers who have been deployed to crime scenes, he underscored the importance of a multi-ministerial approach to crime fighting.

The national security minister also responded to claims that he told constituents not to leave their homes following their dispute with the Bahamas Mortgage Corporation.
"I would have met with one group of constituents who would have had an issue. But I can't give that instruction to anyone, to tell them stay in their houses. I would do whatever I can to ensure that every avenue is exhausted to help whomever I can. But I cannot stand here and tell you that I told someone to stay in their houses.
"I open the line of communication between, and I believe that … I was out of the country, unfortunately, when that was communicated in the press. But, if that's the family I'm thinking, I pointed them to the Ministry of Housing and the Mortgage Department for them to meet with them and to find a solution to the problem."
When asked if he will be doing anything to assist those who are being affected in his constituency, Mr Dames said these matters are reviewed on a "case-by-case" basis.
"It's tough. You have to look at it from a case-by-case basis, and for me to stand here and say 'we have the panacea', we don't. Some situations are more dire than others, and some persons find themselves in situations where the mortgage hasn't been paid in any number of years. It's a tough thing.
"But we have means, not to that extent, where wherever we can help families in crisis, we have been doing that. We have a programme, a helping hands programme within the constituency, but at that level, that's a little beyond us. But whatever we can do…we do because we understand that these are welfare situations. These are not easy situations where there are easy answers.
"And it's quite unfortunate but we have to continue to work to see how we can get our people employed…whereby they can meet their financial obligations."