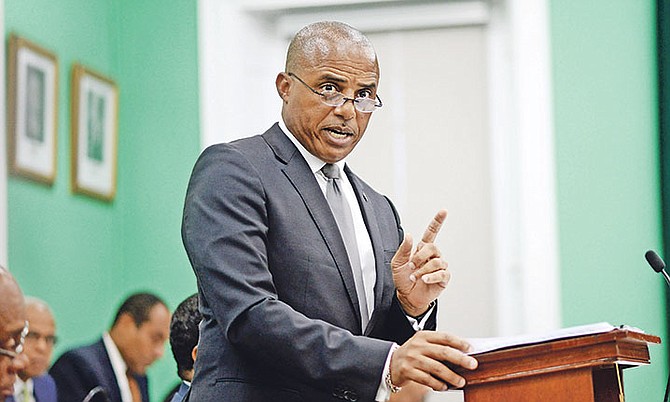 By RICARDO WELLS
Tribune Staff Reporter
rwells@tribunemedia.net
NATIONAL Security Minister Marvin Dames yesterday contended that law enforcement agencies were "cleaning up" their ranks in the wake of the recent arrests, arraignments and convictions of several prison officers for various offences in recent weeks.
Speaking to reporters on the sidelines of a Ministry of National Security contract signing yesterday afternoon, Mr Dames insisted that all the country's law enforcement agencies were adopting a no-nonsense approach to corruption.
"That is not what they were recruited for, all right," Mr Dames said. "They were not recruited to work for the inmates. They were recruited to safeguard us from the inmates.
"We don't have time to play cops here," he said at another point.
In recent weeks, there have been several cases where correction officers were arrested trying to enter the Bahamas Department of Correctional Services with illegal contraband or were arrested and found with drugs. The most recent arrest came on Saturday, leading to an operation that discovered illicit drugs and cellphones in possession of certain officers at the department's Fox Hill facility.
Acting Commissioner of BDCS Charles Murphy held a press conference yesterday on the issues.
For his part, Mr Dames, speaking at a separate event, added: "I tell people we are cleaning it up, all right. And for those officers who are out there, who are violating the law when they would have taken an oath to protect us all, all I am saying, the message I am sending there is watch out. We are going to get you, all right."
He continued: "And we aren't apologising for that, you see, because you want to know that when someone shows up in uniform to answer your complaint, that they are someone you can trust, ok."
When asked about ongoing probes at the Department of Correctional Services, Mr Dames maintained that while no public pronouncement would be made on the matter, both his office and the department would see the rash of corrupt practices to a conclusion.
"Let's put it this way, I said we will find them. I don't want to get into what's going on or not, but you can see, you see that they are yielding results," he said, "And so, we will continue to do it, as long as it takes, you know."
Less than a half hour later, acting Commissioner Murphy doubled down on the hardline position taken by Mr Dames.
Speaking to reporters on a litany of issues and initiatives at the BDCS, Commissioner Murphy confirmed that the officer arrested in connection with the drug discovery on Saturday had been convicted and fined $2,000.
Additionally, he said, an officer found in possession of multiple cell phones was awaiting arraignment before the department's internal tribunal, as the offence is only punishable under the Correctional Act.
Commissioner Murphy said he has made it clear to all of his officers that corrupt practices and questionable behaviour would not be overlooked or go unaddressed on his watch.
He said that over the last few weeks, the department has conducted a number of operations, both internally and externally as it looks to crack down on the amount of contraband being smuggled into the facility.
Commissioner Murphy issued another warning yesterday to both staff and visitors to the facility, maintaining that stringent protocol was now in effect and that no measure would be spared.
"At this point, I would like to thank my staff, which happens to be the majority of my staff who are hardworking, dedicated, committed public servants who, every day, put their lives on the line to ensure that the Bahamas remains a safe place to work, stay and play.
"Let me stress, not only to those persons who seek to bring in illegal items into the department, but also the public - that a few weeks ago a lady was apprehended attempting to bring in illegal items also - we have no tolerance, that is zero tolerance for any type of illegal activity in or around our department," he said.
"I would like to say that again. We advise the public, those who come to visit their loved ones, to ensure that all of their items are checked before you get into. . . the prison, because when you enter these compounds, you will be checked, your property will be checked. Whatever is found in your property or on your person, it will be labelled for you and the police will be called in and you will be dealt with, according to the law."