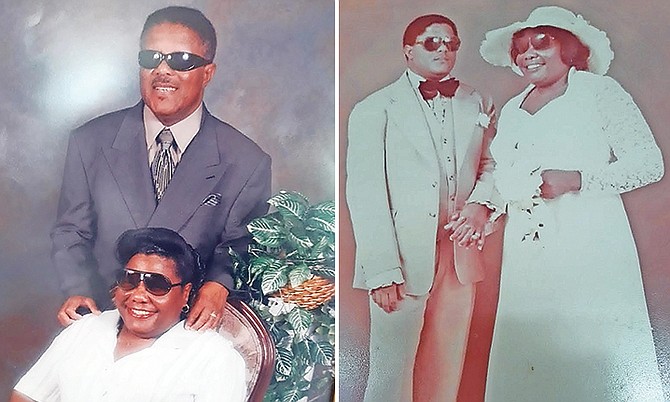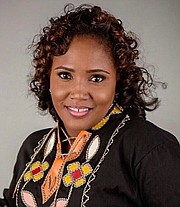 By FELICITY DARVILLE
When Lucy Lightbourne was in her prime at 30 years old, she had a lot going for her. She had just bought a new car and was serving as the manager of Anne's Paradise, a popular restaurant and lounge on Thompson Boulevard owned by Elridge Smith. She lived on her own and was planning the next phase of her life, when everything changed. A gunman entered Anne's and turned the paradise into a living nightmare. When the heist was over and the gunman was getting ready to leave with the money, a patron decided to make an attempt at heroics, and tried to stop the robber on the way out. The gunman let off a warning shot right in the front of Lucy. Her chair fell back and pellets rained down on her body. Although she was not hit directly by the shotgun's bullet, the hot pellets sank into her face and body.
An ambulance was called for Lucy. Three days later while in hospital, after the swelling had subsided and doctors could properly examine her face, they told Lucy that she would forever be blind.
"It was horrific to go to work with sight and leave without," Lucy shared about her experience in 1974.
"I was working trying to get ahead. I had just gotten a car and I was looking forward to a good life. In a way it came to an abrupt halt. There were holes in my face and blood was pouring out from every angle. Only after the swelling went down did they diagnose me (with blindness). I still have pellets in my body – in my hands, in my face, rolling around in my mouth, in my tongue, and all around my hairline."
On Monday, International White Cane Day, Lucy was present in Rawson Square for the demonstration hosted by the Bahamas Alliance for the Blind and Visually Impaired (BABVI). However, she kept shifting in her chair. I later found out that the pellets, which she showed me in her hands, for example, tend to get hot when she is out in the sun for too long, causing her discomfort.
She did an excellent job of keeping it together in the hot sun, and she managed to walk from Rawson Square to Government House with her white cane. At Government House, she and BABVI members had the opportunity to pay a courtesy call on Her Excellency Maguerite Pindling, where Lucy presented her with a gift basket. Lady Marguerite was particularly intrigued to find out that Lucy can cook and bake, and was extremely good at baking cakes.
I spent Monday afternoon at Lucy's home along with her husband, William Lightbourne, affectionately known to Lucy as Bill. They live in a quaint cottage with a lovely garden in Yellow Elder Gardens. Their house is nicely decorated with a well-appointed living room area, dining area with china closet, kitchen and bedrooms, including a large master bedroom for the couple. At the time, a Ms Stubbs was there to assist them, but I found out that she only comes there two days a week, and the rest of the time, the Lightbournes are on their own. They have spent most of their 37 years of marriage this way, only recently acquiring assistance after Bill had developed a heart condition and has been in need of more medical care. Bill's family purchased them a car, and Ms Stubbs would come and take them to their doctor's appointments when needed.
In this lovely little nest, the Lightbournes take care of all their daily needs themselves. They cook (Bill makes a mean souse and homemade bread every Saturday morning), clean, iron, and hey even wash and hang clothes out on the line themselves. They have learned to live independently and now Lucy, at 75 and William at 69 are in happy spirits and are at peace with their lives.
"When I first met Bill, he helped me to get over my fear of the stove," Lucy said. "That was one of my biggest fears as a person who could have seen before. He taught me how to manage and turn the stove down and deal with it properly. I don't know if that's a good thing, because now I have to cook!"
But meeting Bill was one of the best things that could have happened for Lucy. After the robbery, she could no longer live alone. She moved in with her sister and her car was of no use to her anymore. Life had changed and she sometimes felt she "had no feelings" as she tried to come to grips with her new reality.
"Not being around anyone that was blind before, being used to doing everything for yourself, it was difficult," she said. "The worst feeling came to me the first Christmas that I was blind. I love Christmas and I especially love Christmas lights. It was Christmas time, and I couldn't do any shopping and I couldn't see all the beautiful Christmas lights. I sat on my sister's step and I just cried. I had two dogs at the time. They came up to me and put their heads in my lap. A friend of mine came to visit me and she met me in that condition. She told me to get it out, have a good cry and then wash my face and let's go! It was hard, because Christmas was such an exciting time. But I needed to hear that from her."
"As the years went on it got a little easier. When I met Bill, he helped me a lot because he had been blind before me (since he was 24 years-old). Bill made it easier and Christmas time became enjoyable again. Now I have my Christmas tree light again and Bill helps me. We would go to midnight mass and then come home and rush under the tree like little children to open our gifts. Time truly does heal all wounds."
When Bill met Lucy, he says he was hesitant at first, because he was wondering how two blind people would be able to make it together in a lasting relationship. Even though he had other women who were interested, he says there was something special about Lucy and he just knew she would be the one he wanted to spend the rest of his life with. At that time, Lucy was on her way to New Jersey. She had a family member there who invited her to come and stay for a while and "get away from it all".
Bill was planning to go to New Jersey as well, but while preparing for the trip, his grandfather died and he had to go to Grand Bahama. When the two reunited again, they knew for sure that they didn't want to be apart again; that was in 1978. By August 8, 1981 the two were married. As fate would have it, Bill would be called away from his beloved. He took a job in the Turks and Caicos Islands teaching blind and visually impaired children while setting up an adult program for the blind. For four years, he travelled between Turks and Nassau to be with his wife, but in 1984 he returned home to his wife to stay.
For many years, they were both advocates for the blind as well as all persons with disabilities, with Bill serving as the past president for the Disabled Persons Organisation. He has devoted his entire life to the cause. He worked as a teacher at the Erin H Glimore School for the Blind for many years, teaching students and preparing them for BJC and BGCSE national examinations. As an advocate, and working with groups like the Caribbean Council for the Blind and Disabled Persons International, he has travelled all throughout the Caribbean and the world, including Asia, Europe, the USA and Canada speaking on behalf od persons with disabilities.
Lucy has spent over 40 years working at the Salvation Army, which has a very successful mop factory run by the blind. Their mops are noted for being of the highest quality. Lucy had wanted to go to school when she first arrived at the Salvation Army, but it did not work out that way, yet she persevered in whatever capacity she could. She also had the opportunity to travel with Bill to some of the locations around the world he visited in advocacy.
They are both retired and enjoying their lives, but they still wish to see many things improved for persons with disabilities. For the blind, they said, BABVI is in dire need of transportation. Taxi drivers are not available as they used to be, and blind persons struggle daily with finding rides or taking the bus where they need to go. Bill had gotten ill, but Lucy also had a mastectomy in 2016. Lucy thought that community nursing services may be available, so that a nurse could come and assist Bill at home. However, she said the only service available was private and very costly.
There is also a need for the Central Bank of The Bahamas to consider putting a tactile element on the bills, so that blind persons can feel the denominations in their hands. Bill also suggests that the Persons with Disabilities Equal Opportunities Act 2016 is good, but still needs more teeth. One of the main reasons is because disabled persons are still having trouble accessing health insurance, which means they face sometimes insurmountable bills in the event of illness.
Finally, the Lightbournes said that more technology must be available for younger persons with blindness, so that they can learn at the same pace as their counterparts, because in that way, there would be nothing impeding their opportunities for higher education.