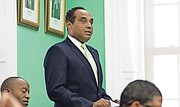 By KHRISNA RUSSELL
Deputy Chief Reporter
krussell@tribunemedia.net
THE government has increased the number of serviced lots to be offered to prospective homeowners.
This comes in response to the initiative being "fully subscribed", according to Housing and Environment Minister Romauld Ferreira who said officials have reconfigured Carmichael Village to serve as many people as possible.
Initially it was reported some 150 lots would be available in Carmichael Village. But with the reconfiguration, the number has more than doubled to 370.
Officials are also in the process of developing a subdivision plan and having infrastructure and a road installed in Fox Hill where serviced lots will also be available.
"In terms of the amount of qualified applicants (they are) fully subscribed," the minister said yesterday. "What it shows is a willingness for people to be homeowners.
"So what we've done is, we are now looking towards Carmichael Village where we have reconfigured the subdivision somewhat and now we are up to about 370 lots.
"Remember when I first spoke to you there were at about 301 lots but we reconfigured it and we are now at 370. We have to move forward with that and so the appetite is there for the service lots.
"What we really want to do is make homeownership a reality for as many people as possible."
Last month, Press Secretary Anthony Newbold said the government had identified buyers for all of its low cost lots in Sunset Close.
At the time, Mr Newbold's statement was a rebuttal of sorts to claims by Mr Ferreira that the housing programme is being underused, with only nine of 60 applicants qualifying for the programme so far.
According to Mr Newbold, the ten lots in Sunset Close are the only ones that have been made available to prospective home-owners and all of the lots had been sold.
The housing initiative was launched in late July.
The cost of the lots in some instances have been as low as $15,000.
Shoddy workmanship by contractors in the past is the chief reason the government is offering the lots to Bahamians as opposed to offering them property with houses already constructed.