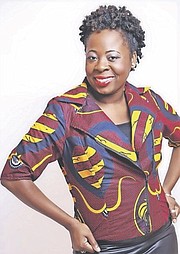 By ALESHA CADET
Tribune Features Reporter
acadet@tribunemedia.net
WHO WOULD have thought, her very first clothing design turned out to be an epic failure.
For Myrlande Julien, it took years to learn a craft taught by her former tailor father, her fascination with fashion growing with every piece created.
"After realising that I loved fashion more than anything else I was doing, I decided to pursue it full time. I went ahead and studied at BTVI before going to Canada to study Fashion Marketing and Merchandising at The Academy of Design and Technology. I also trained under a few talented Bahamian designers and dressmakers to perfect my skills," she told Tribune Weekend.
Remembering her "failed attempt" at creating her first piece, Myrlande said it goes as far back as junior high school when she had completely fell in love with a skirt that could no longer fit her. It was at this point, she attempted to recreate the piece.
"When I finished it, it looked almost the way it was supposed to, but it could not get up past my knees. I think I cried but that experience is what encouraged me to keep sewing. I knew I still had a lot to learn about clothing, and this propelled me to learn much more about designing and garment production after I was done with high school," she said.
Launching the Myrlande Julien Design brand was always at the forefront of her plans, but it only became a priority for her after she became a stay-at-home caregiver for her mom who became ill. Myrlande said her mother's subsequent death pushed her into taking a serious inventory of her life plan and goals.
"Her passing also showed me that life was short and at the end of my life I want to leave with no regrets. Starting Myrlande Julien Designs was one of the things that I wanted to do that frightened me the most, but I did not allow fear to stop me. The thing I love most about this industry is the level of creative freedom that is not available in some other fields. I get to figure out how to make the designs that I see in my mind and bring them to life," she said.
The brand currently offers custom design services that include bridal, evening and ready-to-wear pieces. She describes her work as "fun and edgy" vibes that maintain a certain level of sophistication.
"My overall goal for Myrlande Julien Designs is to have a ready-to-wear collection in stores in the Bahamas and abroad. Ultimately, I would like my brand to be around even when I am not. Currently, I am working on putting systems in place to facilitate my goals. With my clients, the feedback is positive for the most part. They like that my designs are wearable and they appreciate that I am meticulous when it comes to construction, quality and fit," said Myrlande.
As the year progresses, Myrlande said supporters can look forward to the launch of her accessory collection to include jewellery, handbags and clutches.