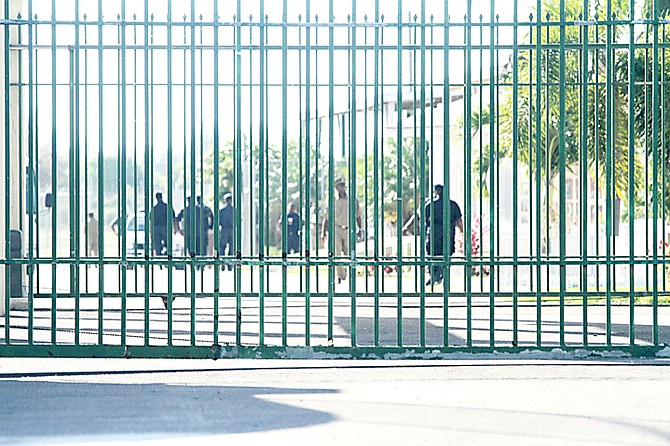 By RICARDO WELLS
Tribune Staff Reporter
rwells@tribunemedia.net
THE Bahamas Department of Correctional Services is over-populated, understaffed and underfunded, however Acting Commissioner of Corrections Charles Murphy yesterday insisted the facility's performance was up to par.
Revealing that the department was using aspects of its new BAMSI-led agriculture initiative to "subsidise" portions of its budget, Commissioner Murphy said the facility is presently over-crowded.
According to numbers he presented, the maximum-security section of the facility, built to house around 200 inmates, currently sleeps over 1,000.
Commissioner Murphy said the department's population has ballooned to over 1,700 inmates overall.
When asked how officers were being equipped to handle the swell in numbers, Commissioner Murphy admitted that while there are some challenges, his staff complement has been up to the task and making do with the numbers they currently have.
"We just had a reorganising of our staff to complement or to manage the population in the housing unit as much as we are able to do with the manpower (we have)," he said.
Moreover, Commissioner Murphy also revealed that some 54 officers are currently being trained, and once the training has been completed, it is the department's intention to immediately move them into active duty throughout several of the department's housing units.
The response prompted further questions from reporters over the officer-to-inmate ratio at the facility, however Commissioner Murphy maintained that aspects of how his officers were positioned could not be made public.
"On any given time, we have the complement of officers to manage our security systems," he said.
Then when pressed for more details, he added: "There are some things I will not disclose to the media."
"It will suffice to say that, at any given time, we have sufficient manpower, we seek to get sufficient manpower to ensure that security measures are met."
When asked by The Tribune if the issues of overcrowding and lack of adequate funding was affecting the aspects of the facility's operations, Commissioner Murphy would only say: "Yes, I would think so."
The BDCS introduced vocational initiatives this fall in partnership with both BAMSI and the Bahamas Technical and Vocational Institute (BTVI).
To date at the facility, 40 inmates have enrolled in the BAMSI scheme, while another 113 inmates have started the initial course in the BTVI scheme.