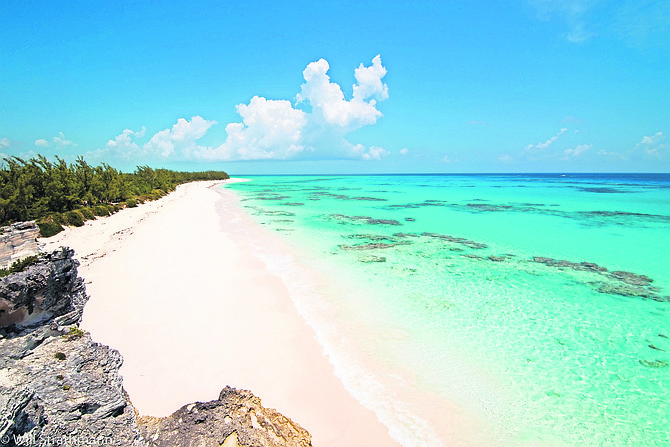 By NEIL HARTNELL
Tribune Business Editor
nhartnell@tribunemedia.net
Previous development plans for Lighthouse Point are "not the right measuring stick to determine" if Disney's project should be approved, the Bahamas National Trust's (BNT) chief believes.
Eric Carey, its executive director, told Tribune Business that "standards based on today's environmental realities" - not those that existed ten years ago - must be applied to determine what impact the cruise line's proposal will have on the 700-acre site during both the construction and operational phase.
His criticism came after the prime minister, while addressing last week's Town Meeting in Eleuthera, compared the 2008 development plans for Lighthouse Point with those of Disney in what appeared to be an attempt to further justify government approval of the cruise line's proposal.
Dr Hubert Minnis even held aloft a diagram showing The Related Group/Meritage Hospitality plans, which were for a much greater development density - including cuts into the land for canals and marina waterways. The same graphic had previously been released to the media by Disney several weeks earlier.
"What was scary for us was the prime minister's comparison," Mr Carey told Tribune Business. "He pulled out the proposal that did not go out for public comment, never had an Environmental Impact Assessment (EIA) approved."
"While the Prime Minister insisted that the environmental damage would have been more, there was no opportunity for the public to have its say so. Anyone would agree that 10 years later, with our country facing even more environmental stress, a project proposed in 2008 should not be the measuring stick to determine whether a project today that admittedly has less environmental intrusion" should proceed.
The BNT executive director continued: "That might have proceeded in 2008, but it doesn't mean that it's the standard we should apply now. We apply standards based on today's environmental realities, with climate change, and we've lost a lot of places since then.
"There is a lot more environmental awareness since then, and a cry among Bahamians to save special places even if they are in private hands, like the Blue Hole in Long Island."
The BNT is one member of the Lighthouse Point Partners consortium, which has submitted a rival proposal to Disney for the 700-acre property's development. Rather than the cruise line's "beach break" destination for its passengers, the group, which includes some of Eleuthera's most prominent institutions, such as the Leon Levy Foundation, One Eleuthera Foundation, The Island School and Cape Eleuthera Institute, is focused on an eco-tourism, research and national park-centred development it argues will produce greater economic impact.
Thomas Sands, the Eleuthera Chamber of Commerce's president, recently told Tribune Business that many residents on the island felt "somewhat slighted" by the perception that many of them were against the Disney project based on the online "Save Lighthouse Point" and other petitions in circulation.'
Confirming he was present at last week's Town Meeting, Mr Sands said there was overwhelming backing for Disney's proposal among attendees, although he conceded that the meeting could have been "better managed" and organised.
"It was very clear that the majority of persons present supported the Government moving forward with Disney; the Disney project," he told Tribune Business, adding that he recognised "90 percent of people there" as being from Eleuthera, with some coming from Hatchet Bay and other communities.
"I think one of the big things that was missed was that the people there were adamant that they represent the people who live here, who are living with the economic struggle every day, and I think they feel somewhat slighted that what has been reported as being representative in terms of Eleuthera's views is not in these petitions being circulated; they don't represent them," Mr Sands said.
"They felt they were making a direct statement to the Government, MP and Prime Minister in representing themselves in their expectations of what they felt." Mr Sands suggested that the Eleuthera-based Community Support Group, which has emerged as the loudest pro-Disney advocate on the island, had only emerged as a counter-weight to Lighthouse Point Partners and environmental activists opposed to the cruise line's plans.
"They intended to speak loudly that the residents of Eleuthera, all of them, did not sign on to any kind of petition and wanted to the Prime Minister to see them loud, clear and present," he said.
Many observers, though, felt the Town Meeting became a Disney "cheerleader" or "pep" rally rather than true public consultation, where dissenting voices and those questioning the cruise line's plans were booed and shouted down.
Mr Carey, meanwhile, said that while the views of Eleuthera residents were important, Lighthouse Point's status as a location of immense natural and environmental beauty gave all Bahamians, residents and persons who loved this nation a right to be heard, too.
"We appreciate the people of south Eleuthera should have a loud voice in this process, but Lighthouse Point is a place of natural beauty and national importance," he told Tribune Business. "With the views of the people of south Eleuthera there are the views of voting Bahamians that have a right to express a view."
Pointing out that 12,000 of the 30,000 signatures to the "Save Lighthouse Point" petition were Bahamian, the BNT executive director added that residents, investors and second home owners who made "significant economic contributions" should be heard.
"Those persons are legitimate stakeholders that should have their views weighted in the process," Mr Carey said.