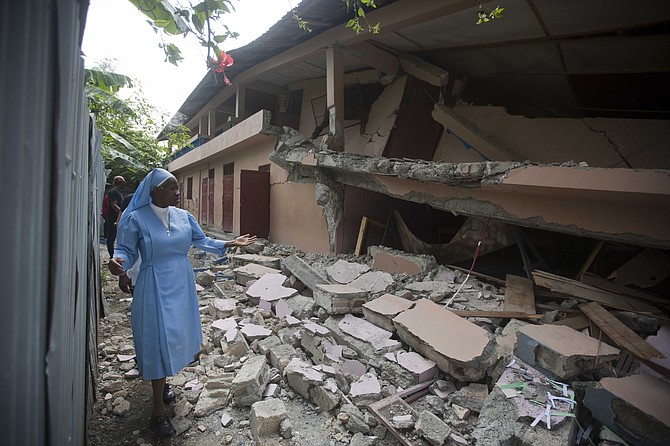 By RICARDO WELLS
Tribune Staff Reporter
rwells@tribunemedia.net
PRESS Secretary Anthony Newbold has again defended Prime Minister Dr Hubert Minnis' response to the Haitian earthquake, yesterday categorically denying the nation's leader had expressed a refusal to send aid.
Mr Newbold yesterday read out the direct words used by Dr Minnis during an interview with reporters on October 8 outside of Government House, insisting that at no point did the prime minister express an intent not to help Haiti.
Mr Newbold hit out at the Nassau Guardian's reporting on the matter in particular and called that initial report "a misleading story," one which he asserted resulted in a "firestorm of controversy".
He said this led to intense criticism by talk show hosts, members of the Official Opposition and the Bahamas Christian Council.
Moreover, Mr Newbold said the report forced Dr Minnis to call Haitian President Jovenel Moise to apologise on behalf of his office and The Bahamas, for the pronouncements made in the article.
The article read: "The government is not now considering giving aid to Haiti following another earthquake, which left at least a dozen dead and around 200 injured, Prime Minister Dr Hubert Minnis suggested yesterday, stating that his focus is on putting Bahamians first."
It continued: "'When asked if he intends to give aid to Haiti similar to the help offered to Dominica after Hurricane Maria last year,' Minnis told reporters outside of Government House, 'At this point in time, I am looking at moving The Bahamas forward. Bahamas first.'"
"Minnis said he has heard reports of the earthquake compromising a Haitian prison and is concerned that hardened criminals might be headed toward The Bahamas."
Addressing the article yesterday, Mr Newbold said: "Now, for God sake I say someone, anyone, here or outside this room; I want you to tell me where did the prime minister say that he is not sending any aid to Haiti.
"What you heard was the prime minister of The Bahamas doing his first duty, which is trying to ensure that his citizens is safe," he added.
Last week, Mr Newbold in his initial defence of Dr Minnis, said the prime minister had to ultimately ensure Bahamians are not "adversely impacted" by these events, particularly as it relates to the possibility of an increase in illegal immigration.
Reflecting on that position yesterday, Mr Newbold admitted he was someone caught off guard by the line of questions he faced in response to the article.
He claimed while he did see the article, he dismissed it as a non-story because he was able to decipher what was being implied and what was actually said.
"I said the prime minister made no such statement, so I couldn't understand why anyone would jump to such a conclusion. And so, I dismissed it," he told reporters.
"Nevertheless, some people did and as a result the prime minister ended up having to call President Moise, with who he has a personal relationship, as does Mrs Minnis and the wife of President Moise, to reassure the president that he had made no such statement and would always be willing to help in any way that he could and the Bahamas could," he added.
Mr Newbold continued: "So let me say, a little more forcefully than I said last week, the prime minister never said that he would not give aid nor assistance to Haiti. Never did he say that.
"Now, if someone thought - that not was their business to get in people's head - but the prime minister never said those words.
"For the record, there is a protocol involved in the way that assistance is provided among the CARICOM countries, of which The Bahamas is a part.
"...As is usually the case, if it is requested, The Bahamas will participate; as we have. We've had assistance given to us through CEDEMA and CARILEC, and we have participated in providing assistance as well."
In the days that following Dr Minnis' comments on October 8 and subsequent media reports, Rights Bahamas denounced his remarks and accused him of using tragedy in Haiti to encourage fear, xenophobia and ethnic hatred.