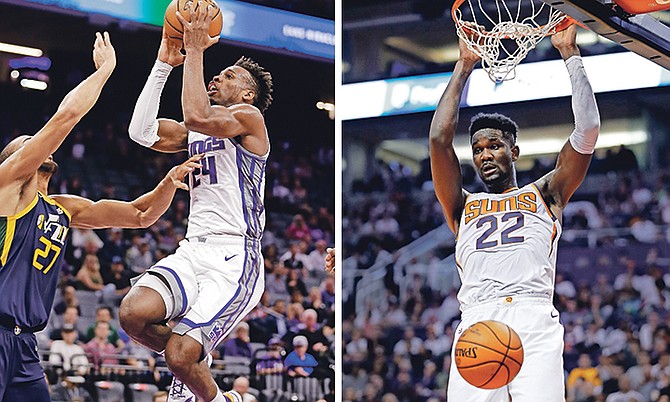 By BRENT STUBBS
Senior Sports Reporter
bstubbs@tribunemedia.net
OPENING night in the National Basketball Association's 2018/19 regular season went in opposite directions for Bahamians Deandre Ayton and Chavano 'Buddy' Hield simultaneously on Wednesday night.
While Ayton and the Phoenix Suns pulled off a 121-100 victory over the Dallas Mavericks, Hield and the Sacramento Kings suffered a disappointing 123-117 decision to the Utah Jazz.
Ayton advised by Ariza
Ayton took advantage of some valuable tips from veteran Trevor Ariza to help him get through his rookie regular season opener with the Suns at home at the Talking Stick Resort Arena.
"Trevor [Ariza] was like, 'you know, if you want to be great, this is how you be great, grab every board. Control the glass and grab every board," said the 7-foot, 1-inch Ayton. "That's what I tried to do."
Ayton, the second Bahamian to be selected as the first round pick in the NBA draft in June, scored 18 points on 72.7 per cent shooting and he added 10 rebounds, becoming just the third player in Suns history to make his debut with a double-double, joining Alvan Adams and Shawn Marion.
For good measure, Ayton also dished out six assists in 36 minutes as he outshined Mavericks' No.3 pick Luka Doncic, who came up with 10 points and eye-catching passes to centre DeAndre Jordan.
Ayton, however, took a back seat to team-mate Devin Booker, who got some chants of "MVP" by the fans as the guard made his return to the NBA from a broken hand suffered late in the summer, to explode for 35 points, including 19 in the fourth quarter, to go along with seven assists and four rebounds.
Ariza, who has been in the NBA with numerous teams since 2004, but signed a one-year deal with Phoenix on July 6, finished with 21 points, eight rebounds and seven assists.
During the post-season interview in the locker room, Ariza somehow showed up Ayton.
The feeling was a mutual one for Ayton towards Ariza.
"Ay, rook," Ariza yelled over the camera and voice recorders.
"Where the towels at, rook?"
"Y'all just pause, everybody wait," Ayton said, rising. "Let me do this right quick."
There was some laughter as the talking stopped and Ayton looked over.
The Suns will be back in action on Saturday when they take to the road to play against the Denver Nuggets.
Ayton, 20, is being relied upon to get Phoenix back as a contender after they missed the playoffs last year, finishing 21-61 for 5th place in the Pacific Division and 15th in the Western Conference.
Hield and Kings crowned
Although he got off to a great start, Hield and Sacramento were cooled down as the Utah Jazz danced past them for a 123-117 victory at the Golden 1 Center in Sacramento.
Hield, starting at small forward, scored 19 points with six rebounds and an assist in 32 minutes of action.
Seven-foot centre Willie Cauley-Stein made his NBA debut as he led their attack with 23 points and seven rebounds, guard De'Aaron Fox had 21 points and seven assists.
Guard Donovan Mitchell paced the Jazz attack with 24 points, while centre Rudy Gobert contributed 29 points and 15 rebounds.
Tonight, Hield is expected to be back in familiar territory when the Kings face the New Orleans Pelicans.
Hield was drafted as the sixth pick in the NBA draft in 2016 by the Pelicans, but was eventually traded to Sacramento along with Tyreke Evans, Langston Galloway, a 2017 first round pick (10th overall) and a 2017 second round pick for DeMarcus Cousins and Omri Casspi on February 20, 2017. Hield, 24, averaged 32.0 minutes with 19.0 points and 6.0 rebounds last season with the Kings, who didn't make the playoffs last year after they finished fourth in the Pacific Division and 12th in the Western Conference with a 27-55 record.
As a point of interest, Hield and the Kings will entertain Ayton and the Suns in their first head-to-head match-up on December 4 and again on January 8 in Sacramento before they play in Phoenix on February 10 and March 23.