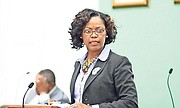 By NICO SCAVELLA
Tribune Staff Reporter
nscavella@tribunemedia.net
A SUPREME Court judge has recused himself from hearing Fox Hill MP Shonel Ferguson's civil trial after revelations that Official Opposition Leader Philip "Brave" Davis is due to swear an affidavit in the matter, The Tribune can confirm.
The Tribune understands Justice Ian Winder recused himself on Monday after receiving word of Mr Davis' pending involvement in the matter from Ms Ferguson's attorney Ed Turner.
Justice Winder consequently transferred the matter to Justice Keith Thompson's court to be heard.
Earlier this month, The Tribune exclusively reported how Ms Ferguson's investment company allegedly owes over $70,000 in real property taxes, having never paid them since it assumed responsibility for the maintenance and operation of a building in Centreville some 13 years ago.
Court documents seen by The Tribune claim Ms Ferguson's company, Turtle Creek Investments Limited (TCI), owed $74,069.22 in real property taxes as of December 6, 2017, in alleged contravention of a hire purchase agreement it entered into for the building in December 31, 2005.
Additionally, TCI allegedly owes the Water and Sewerage Corporation $22,173.15 as of July this year when it was disconnected, having not paid "any utilities and insurance" on the building, which houses the Crab House and Seafood Emporium, for at least two years. The last time TCI paid its water bill was in July of 2014, it is alleged.
Concerning the building's insurance, TCI has allegedly not paid any insurance premiums for the past three to four years, something that caused the building's owner to recently pay $15,963.75 to J S Johnson Insurance Agents & Brokers in a bid to bring the insurance policy current.
Also, it is alleged that TCI has not paid its light bill for "some time now," and as it stands, is currently utilising a generator for electricity.
Additionally, TCI has allegedly not paid any of the $10,833 monthly payments it agreed to pay for the building in question since September of 2016, resulting in the owner receiving no revenue from the agreement, despite the company currently subleasing a portion of the building for $12,000 per month.
Daybreak Holdings, the plaintiff, further alleges that notwithstanding the various breaches, TCI has "failed and/or refused" to bring the hire purchase agreement current or to vacate the building.
But Ms Ferguson is claiming that subsequent to entering into the hire purchase agreement, TCI opened several businesses in the building and made "timely" monthly payments. However, she said as the economy declined and crime escalated in the area, both parties agreed to reduce the monthly payment to $5,000 until the $1.35m was liquidated.
When the economy didn't improve, she said both parties agreed to put the building up for sale and distribute the proceeds between them. In particular, Ms Ferguson claimed both parties agreed that upon the building's sale, TCI would be reimbursed for the equity it put into the building.
Ms Ferguson also claims that as of August 17 of this year, her company has paid Daybreak Holdings $1,548,609, in addition to investing over $700,000 in renovations for what she claimed was initially a building in a "dilapidated state".
Ms Ferguson claims that as the $1.5m TCI paid to Daybreak Holdings exceeds the sum owing on the hire purchase agreement, and that as both parties concluded that the principal amount under the agreement was settled, the only outstanding issue was the amount of the outstanding interest.
Concerning the outstanding real property taxes, Ms Ferguson claimed in her affidavit: "The parties agreed that all outstanding real property taxes would be settled at the sale of the building."
However, in a supplemental affidavit to respond to Ms Ferguson's assertion, Ms Davis enclosed a copy of an email communication to her from Daniel Ferguson, TCI's vice president, with Ms Ferguson's alleged email copied in on the correspondence, where Mr Ferguson stated on February 5 of this year that he would arrange a payment plan with Inland Revenue.
And Ms Ferguson's claims about the agreed sale of the building have been adamantly denied by Daybreak Holdings, which has since labeled Ms Ferguson's assertions about it as "nothing short of ludicrous".
Additionally, Michael Craig Roberts, an attorney at Graham Thompson & Co, denied a portion of Ms Ferguson's affidavit that claimed that both TCI and Daybreak Holdings agreed that he would have the latter provide a "figure for settlement" regarding the interest component of the hire purchase agreement.
Mr Craig "unequivocally" stated that Ms Ferguson was "incorrect" in her assertions because he "at no time" put forward a proposal for settlement as he had "no instructions" to do so.
Additionally, Mr Roberts said in his affidavit that having reviewed the hire purchase agreement as per the request of Daybreak Holdings' president Donna Davis, he also came to the conclusion that due to the "various breaches" by TCI, Daybreak Holdings could take the position that the agreement "should be deemed terminated" and possession of the property returned to the owner.
Mr Davis' name is mentioned in both Ms Ferguson's and Mr Roberts' affidavits as having some involvement in the dispute as a mediator of sorts; however, Mr Roberts claims Mr Davis was "never retained" in the matter, thus providing another reason why he offered no proposal concerning the interest settlement.
Nonetheless, Justice Winder, had previously requested that counsel in the matter, namely Mr Turner and Christina Galanos for Daybreak Holdings, let him know beforehand if Mr Davis will be called to testify in the matter, for "obvious" reasons. Justice Winder formally worked in Mr Davis' law firm, Davis & Co.