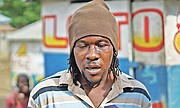 By AVA TURNQUEST
Tribune Chief Reporter
aturnquest@tribunemedia.net
SOURCES close to the matter yesterday told The Tribune the government was not of the mind to re-arrest Bahamas-born Jean Rony Jean-Charles until his case is heard before the Privy Council.
However, when contacted Attorney General Carl Bethel declined further comment on the matter yesterday.
On Wednesday, he told The Tribune Jean Rony Jean-Charles would be "accorded a fair opportunity to prove that he is the person who is in the birth certificate" submitted in court documents.
Back in February, Mr Bethel noted the case had unearthed a significant and far-reaching legal challenge over the verification of birth certificates.
Lawyers for Bahamas-born Mr Jean-Charles yesterday underscored difficulties obtaining Haitian documentation as a chief obstacle to completing his citizenship application.
He has not worked in the eight months since he was returned to the country on a court order.
"I have a copy of the travel document," Mr Jean-Charles told The Tribune on Wednesday. "But no one will hire me, they said I need something more."
"We have been working on getting his documents," said attorney Fred Smith, "but as usual it's often difficult to get documents from Haiti – both of his parents are dead. All of his papers burnt in a (March 2017 shanty town) fire, so we're still working on that."
Mr Smith added: "He hasn't worked because nobody will hire him, the notoriety from this case alone."
A recent Court of Appeal ruling, which quashes that order in favour of the government, has reignited scrutiny over the 35-year-old's identity and whether he can prove his claim to his own birth certificate.
"As we argued in the appeal, which was not dealt with," Mr Smith said, "Jean Rony falls into a unique category of persons born within The Bahamas and he has committed no offence under the Immigration Act, and it would be unlawful and in breach of his constitutional rights to be arrested, detained, and deported."
Mr Smith said: "If Jean Rony isn't the person who was standing before the Court of Appeal then where is the real Jean Rony? The government brought no evidence that the Jean Rony who was before the Court of Appeal was not in fact the Jean Rony that was deported, and that was accepted by the government that he was the person that was deported."
Mr Jean-Charles' identity was first thrown into question after evidence submitted by the Department of Immigration during the Supreme Court trial stated the man deported by the Bahamas to Haiti had given a different date of birth.
The Department of Immigration, in its return to the habeas corpus writ, stated an adult Haitian national who gave his name as "Jean Charles" and stated his date of birth as December 1, 1985, was arrested and detained by immigration officers during a routine status check on Fire Trail Road.
He also reportedly confirmed his identity as "Jean Charles," date of birth December 1, 1985 during a roll call of passengers before boarding the plane.
However, during an interview with The Tribune in Haiti, Mr Jean-Charles insisted he told officials repeatedly during his detention that his birth date is December 5, 1982.
The matter was unresolved in the Supreme Court, and Court of Appeal Justice Sir Michael Barnett in this week's ruling stated trial judge Gregory Hilton "fell in error" when he proceeded with Mr Jean-Charles' application for constitutional relief.
Justice Hilton further found Mr Jean-Charles has been deprived of his personal liberty, unlawfully arrested and detained/falsely imprisoned in breach of his rights guaranteed him under the Constitution.
Earlier this year he ordered the government to "immediately" issue a travel document for Mr Jean-Charles to allow him to return from Haiti to the Bahamas at the government's expense, and to grant him legal status no later than 60 days after his return, and upon him making an application.
The Passport Office issued an emergency travel document valid for one year for Mr Jean-Charles on January 31, and listed the 35-year-old as a Haitian national with a birth date of December 5, 1982, according to the copy obtained by The Tribune.
Justice Hilton granted a partial stay of his ruling in February. The stay released the government from his order to grant the Bahamas-born man status pending its appeal of his judgment. However, he ordered Mr Jean-Charles was not to be arrested, detained or expelled and is allowed to support himself until the appeals had been determined.
In their written ruling on Wednesday, Sir Michael, with fellow Court of Appeal justices Jon Isaacs, and Hartman Longley, statedthat there could be no finding of a constitutional breach as it related to Mr Jean-Charles' detention and deportation, due to lack of certainty over his identity.
The justices found any application for constitutional, or any other relief, should not have been entertained until that issue was resolved.
Mr Smith told The Tribune on Wednesday he was very disappointed by the ruling, most notably because the appellate judges did not address the constitutional issues raised about the legality of "arbitrary detention and deportation" by the government.
"Although I am disappointed," Mr Smith said, "I am glad that the issue continues to receive great attention because human rights and constitutional battles are important to be fought in the courts for the sake of developing jurisprudence, and so that we can continue to grow as a democracy.
"Win, lose, or draw, litigation on human and constitutional rights helps the country, as will eventually a determination by the Privy Council.
"So the battle will continue on another front," he added, "and we very much hope Jean Rony will be successful in London."