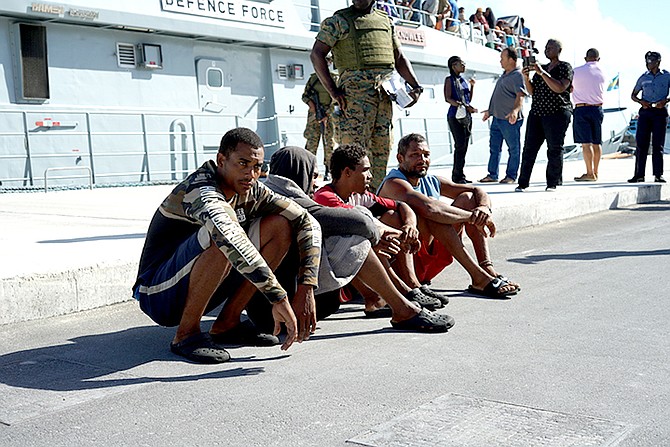 By Morgan Adderley
Tribune Staff Reporter
madderley@tribunemedia.net
ACTING Director of Fisheries Edison Deleveaux yesterday estimated that more than 20,000 to 30,000 pounds each of fishery products were on board two of the three Dominican vessels that were apprehended by the Royal Bahamas Defence Force over the weekend.

The count on the third vessel had not been completed up to press time. However, Marine Resources Minister Michael Pintard added that a "tremendous amount of undersized products" are among the Dominicans' catch, with Mr Deleveaux approximating that more than 50 percent of the catch consisted of undersized lobsters and groupers.
One hundred and twenty-four Dominican poachers on three vessels were arrested by the RBDF on Saturday. The poachers engaged officers in a shootout before they were subdued. However, no one was injured. The poachers were brought to shore on Monday and remanded to the Carmichael Road Detention Centre.

Videos and photos of the poachers' large quantity of catch have since gone viral on social media.

In interviews with The Tribune yesterday, Mr Deleveaux and Mr Pintard provided updates on the haul, with Mr Deleveaux adding officials hope to arraign the poachers in court today.

Mr Pintard explained the catch is counted by fisheries officers, in conjunction with the Ministry of Finance. The ministry is then responsible for auctioning the haul to reputable fish houses.

"The two (vessels) we've (counted), in terms of the lobster catch, more than 50 percent of it is undersized," Mr Deleveaux said. "It's a wide variety of different species, but like I said, my concern is the number of undersized lobsters that we found in both cases, and a quantity of undersized grouper as well.
"It's anticipated that when they go to court they will probably face four (or) five charges, the major being illegal foreign fishing in Bahamian waters; possession of prohibited apparatus, and that's compressors and spear guns; possession of undersized lobster (and) possession of undersized grouper."'
Mr Deleveaux could not say whether there will be additional charges regarding the poachers' shooting at RBDF officers, noting that charges relating to firearms are brought by police.
"I still have officers out there working, even right now," Mr Deleveaux said. "Again, if I were to make an estimate… each vessel they have done inspection on, if I were to convert it to a whole weight, it would have been in excess of maybe 20,000 to 30,000 pounds…per vessel, so far."
Mr Deleveaux added it is too early to estimate the value of the catch.

"I'm hoping it's completed sometime today (Thursday) because they're trying to get them in court for tomorrow (Friday)," he said.

Regarding the haul, Mr Pintard said: "In the counting process, (fisheries officers) would do a number of things. They would check what species are…contained therein, look at the size of them as well, which how they have been able historically to separate out undersized from appropriate size product.

"Once you've had counting and weighing, the Ministry of Finance then has ownership and carriage of the product. That's no longer the Department of Fisheries.

"The product is…then auctioned off by (Ministry of) Finance. And it's normally through the various major fish houses, who have no issues in terms of their licensing and the various processes by which they process foods in their plants. So that's normally in a nutshell what the procedure is. So they're in the midst of that right now at the Defence Force base.
"A tremendous amount of undersized products were there," Mr Pintard added. "The initial count and figures will be available later, (but) clearly indicates that a tremendous amount of undersized lobster was among the catch."
When asked what happens to undersized fish, Mr Deleveaux said in the past, they would be donated to charities.