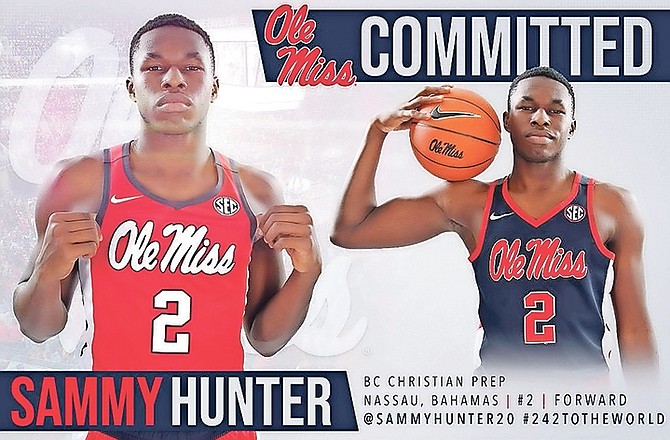 By RENALDO DORSETT
Tribune Sports Reporter
rdorsett@tribunemedia.net
SAMMY Hunter became the latest Bahamian basketball product to join the Ole Miss Rebels programme for the Fall 2019 campaign.
Hunter announced his decision via social media Saturday night while on his official visit to the Rebels in Oxford, Mississippi.
He decided on the Rebels between his final three of the Oklahoma Sooners and Kansas State Wildcats. He was the third Bahamian to join Ole Miss basketball within the last year.
Franco Miller signed with Ole Miss in the 2018 class and is set to begin his freshman season next month.The women's basketball programme is also headed by Yolett McPhee-McCuin, who was hired to replace Matt Insell last April. Hunter verbally committed to head coach Kermit Davis and joins a talented incoming class for the 2019 season that already includes Antavion Collum, Rodney Howard, and Bryce Williams.
The Rebels look to continue to add to the class with likely targets four-star forwards DJ Jeffries, and Chandler Lawson.
For much of the summer, it was a relatively slow recruitment process for Hunter, but he quickly picked up five NCAA Division I offers in just under two weeks.
His summer recruitment continued to accelerate following his performances against elite Division I competition at the Bahamas Basketball Federation's Summer of Thunder. He finished with 19 points and eight rebounds against Notre Dame and followed with 18 points and five rebounds against North Carolina.
Currently at BC Prep in British Colombia, Canada, prep school in Canada was not the original choice, but an opportunity he discovered after the United States was no longer a possibility.
Hunter will compete at home next month with BC Prep at the Caribbean Tip-Off Classic, presented by The Bahamas Basketball Federation and Caribbean Sports Travel.
"The prep school experience, it feels like you're in college already. You have to send out your school work while on trips, we play 40-plus games, we travel a lot so you find a way to fit in with time management," Hunter said.
This summer, he also made his senior men's national team debut in July at the Central American and Caribbean Games in Barranquilla, Colombia.
Hunter was also a member of the 2016 CBC Under-16 Championship team when he averaged 12 points and 5.5 rebounds per game and the 2017 Centrobasket U-17 Championship team when he averaged 14.6 points and 6.8 rebounds per game. It was then that he first drew the interest of NCAA programmes who approached him following the tournaments.