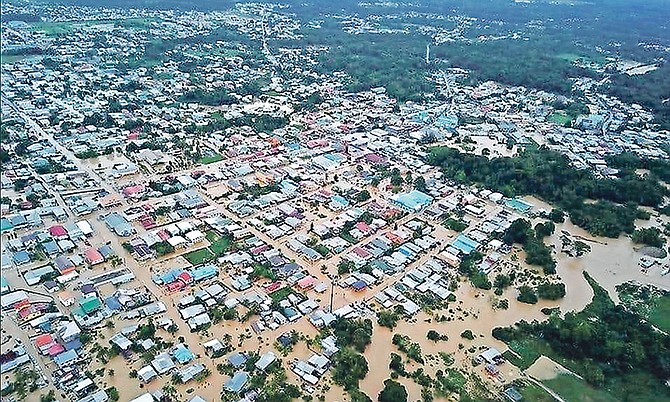 By MORGAN ADDERLEY
Tribune Staff Reporter
madderley@tribunemedia.net
MINISTRY of Foreign Affairs Director General Sharon Brennen-Haylock yesterday said the Bahamas is "standing in solidarity" with Trinidad and Tobago in the wake of a series of heavy rain, flooding, landslides and earthquakes all of which have affected the country over recent days.

While Ms Brennen-Haylock could not confirm whether Prime Minister Dr Hubert Minnis or Foreign Affairs Minister Darren Henfield had been in contact with their Trinidadian counterparts, she noted any aid the Bahamas can provide would be made under the umbrella of regional groups such as Caribbean Community (CARICOM) and the Caribbean Disaster Emergency Management Agency (CDEMA).
Over the weekend, Trinidad and Tobago Prime Minister Dr Keith Rowley declared the country to be in a state of national disaster.

"Our sympathies and prayers and thoughts are with the Trinidadians," Ms Brennen-Haylock told The Tribune. "We're trying to find out exactly what has happened…We have not yet put out a statement, but we are certainly very much standing in solidarity with our brothers and sisters in Trinidad & Tobago.
"The Bahamian government is aware of what is going on," she continued. "We have been hearing through our various networks what has been happening in Trinidad, through CARICOM and others…We're still talking and trying to get as a complete a picture as possible.
"I am not aware of any contact having been made between the prime minister and the prime minister of Trinidad or the foreign minister (and) the foreign minister of Trinidad," she added.
When asked if the Bahamas will be sending any aid, the director general said these efforts will be coordinated through intergovernmental organisations.

"What normally happens in this type of situation where aid is concerned, is CARICOM does an assessment along with CDEMA and other humanitarian actors and we rally behind that, whatever assessment they make and the support that is needed, we rally behind that."
On Sunday, three Bahamian students at the University of the West Indies, St Augustine medical campus told The Tribune they were safe, but expressed concern at the amount of rain that is continuing to fall.
Regarding student safety, Ms Brennen-Haylock said the ministry has contacted the honorary consul of the Bahamas in Trinidad, Monica Davis.
"(Ms Davis) has told us that she made contact with the president of the Bahamian Student Association (at UWI STA).
"I presume the majority of the students are at (UWI). I think there might be some other institutes in Trinidad where they might be studying, but I think for the most part it is…the medical school at (UWI)."

Ms Brennen-Haylock said Ms Davis reported the students are "all okay" and as far as the government is aware there have been no reports of any injuries.

The president of the campus' Bahamian Students Association, who did not want to be named, also sent a statement to The Tribune on Sunday.
"As it stands now, no Bahamian students have been affected by the inclement weather," she said. "The areas of flooding are happening around us but we are safe, thank God. There is a lot of flooding in the southern area so a lot of roads have been closed. We've urged everyone to try to gather water and non-perishables in the event of future closures.
"We're just monitoring for now and praying that everyone stays safe. A lot of our Trinidadian classmates have been affected by the flooding so we're praying that they receive the assistance they need as well."