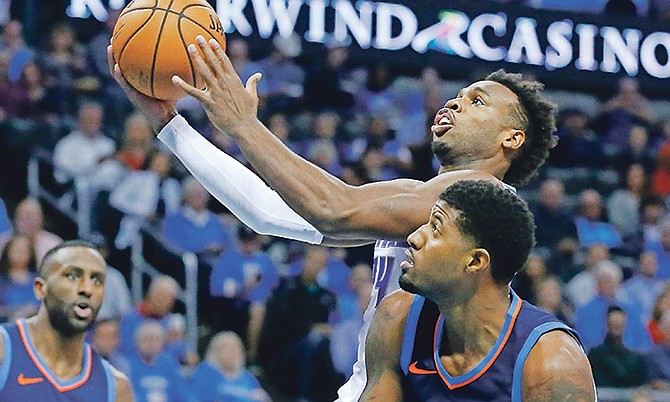 By RENALDO DORSETT
Tribune Sports Reporter
rdorsett@tribunemedia.net
BUDDY Hield is off to an efficient shooting start to his third NBA season and continues to play well in the state of Oklahoma whenever he returns to the state of his collegiate stardom.
Hield scored 17 points for the second consecutive game to help the Kings to their first victory of the 2018-19 season - a 131-120 win over the Oklahoma City Thunder at the Chesapeake Energy Arena in Oklahoma City, Oklahoma, on Sunday night.
He shot 6-11 from the field, 2-4 from three-point range, a perfect 3-3 from the line and added five rebounds and two assists in 23 minutes.
Hield received an ovation during pregame introductions from the Oklahoma crowd, indicative of his strong connections to the Sooners' faithful for his tenure that concluded with the Naismith Award in his senior season. "It's cool," he said. "Like I said, it's my second home. I was here for four years. Glad to be here. The fans always embrace me well."
Russell Westbrook went for 32 points, 12 rebounds and eight assists in his season debut. He split a pair of free throws to trim the Thunder deficit 119-113 with 2:35 left to play in regulation.
Hield responded with a three pointer on the very next possession to push the lead to nine, as close as the Thunder would get the remainder of the way.
"The fans always embrace me well. I love being here. I wish I didn't get into foul trouble early so I could stay on the court longer, but it is what it is," he told Parker Primrose of OU Daily, "I'm content [with how I'm playing now], but I'm trying to find ways to get better," Hield said. "Stay out of foul trouble, be smart in ways of guarding and stuff like that. I just try to keep building each and every game."
Through thee games, Hield is averaging 17.7 points, 4.3 rebounds and two assists per game on 55 percent shooting from the field and 50 percent shooting from three.
"[Buddy]'s doing good," Kings head coach Dave Joerger said. "He works hard, he's a great human being, and he's fun to coach every day."
The Kings look to even their record on the road against the Denver Nuggets at the Pepsi Center in Denver, Colorado tonight.