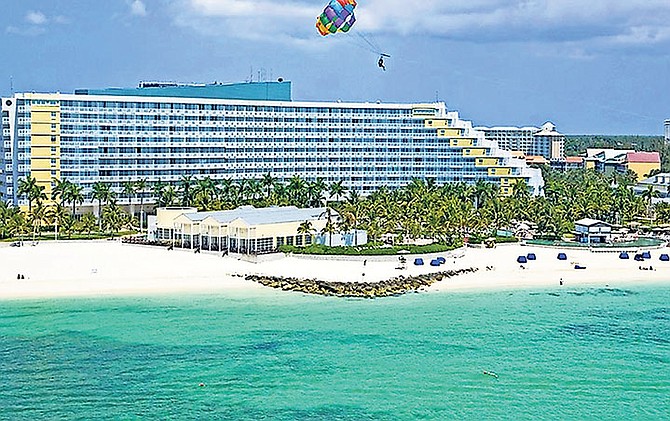 By NEIL HARTNELL
Tribune Business Editor
nhartnell@tribunemedia.net
The Grand Lucayan's chairman yesterday estimated it will cost the Government between $2-$3m to finance the voluntary departures of 150 workers seeking to leave the resort.
Michael Scott, pictured, in a statement issued yesterday, confirmed that the Government's newly-acquired resort is on track to to reduce its workforce by one-third after 60 management staff, and 90 line employees and casual workers, volunteered to accept severance packages.
He added that this would slash the workforce from more than 450 to around 303, describing the latter number as "more closely aligning" with the demands of the 196-room Lighthouse Pointe property - the only one of the three Grand Lucayan hotels that is currently open. The separations will start towards the end of this month or the beginning of November.
Mr Scott, who chairs Lucayan Renewal Holdings, the Government-owned special purpose vehicle (SPV) that controls the resort until a buyer is found, told Tribune Business that he and the board were "crunching the numbers" to ensure figures supplied by the two trade unions representing its workforce matched their own.
Promising that the Grand Lucayan will "follow the law" on both the sums paid out and structure of the voluntary separation packages (VSEPs), he added that "misconceived claims" will not be entertained given that "public money" - meaning the Public Treasury and Bahamian taxpayers - will finance the payouts.
"If people wanted to leave we weren't going to stand in their way," the Lucayan Renewal Holdings chairman told this newspaper. "We expected there would be some realignment and readjustment, and that's OK with us as we want to run it as efficiently and cost effectively as we can."
Mr Scott, an attorney, said both trade unions - the Commonwealth Union of Hotel Services and Allied Workers (CUHSAW), which represents the line staff and is headed by Michelle Dorsette, and the Bahamas Hotel Managerial Association (BHMA), which acts for middle management - had been co-operative in working with the Board to supply lists of who wanted to leave and the sums said to be due to them.
"We're crunching those numbers now," he confirmed to Tribune Business. "That's Ellison Delva, our restructuring officer, and Linda Turnquest, from Grand Bahama Shipyard, who sits on the Board as treasurer.
"They're crunching the numbers and going through everything. Once they're done, we'll have a firm number, hopefully by the end of this week or the beginning of next week. It's hard to say, but it'll be somewhere between $2-$3m. It will be several million."
The Lucayan Renewal Holdings Board has to reconcile the union-supplied figures with its own, and determine if it needs to retain any of those wishing to leave to maintain the resort's smooth functioning.
"I'm not paying any outstanding gratuities or claims that are misconceived. This is public money. I'll be following the law," Mr Scott warned, adding that the Government had "departed from the norm" by taking on the staff severance liabilities itself.
He added that this was normally the seller's responsibility in transactions of this nature, but the Minnis administration elected to take it on itself given the strained relationship with Hutchison Whampoa over the Grand Lucayan's sale.
"We didn't want to leave that to Hutchison. We've had a very difficult relationship with Hutchison," Mr Scott admitted. "Severance is usually the obligation of the seller, not the purchaser, but in this instance, given the historically difficult relationship with Hutchison, the Government opted to exercise the principle of parens patriae - parent of the nation - as protector of its citizens' rights of those who would be unable to protect themselves."
Still, the severance pay costs are likely to reignite concerns about the Government's (taxpayer's) financial exposure to Freeport's last 'mega resort' property, especially if it is unable to fulfill its "quick exit" strategy by selling it to a new buyer within three to six months.
Besides the $65m purchase price, the Government also committed to a $2m subsidy to cover Hutchison Whampoa's operating losses between August 1 and September 11, and waived the payment of $3.25m in Stamp Duty on the conveyancing by the Hong Kong conglomerate. The latter also walked away with $80-$85m in Hurricane Matthew insurance proceeds, rather than put them into repairs.
The Government also faces a $35-$39m repair bill if it chooses to proceed with renovating all three Grand Lucayan properties. K P Turnquest, deputy prime minister, previously said the full financing costs could run as high as $124m - a sum still below the total subsidies demanded by Wynn Group and Sunwing, the last two private buyers to look at the property.
Mr Scott, meanwhile, said he expected around 50 percent of the "dozen people" showing interest in acquiring the Grand Lucayan to "withstand" due diligence, and come up with the capital and vision required, to revive the entire Lucayan strip and transform it into a destination product.
"We've got over a dozen people expressing interest, but maybe half a dozen will withstand due diligence and get the capital and liquidity together to make the investment this project requires. That's what it's going to come down to," he told Tribune Business.
"I'm not wasting time. There's no time to waste. There's extensive interest, significant in both terms of quality and in volume. We're also getting inquiries from non-serious players, but those I file in the proverbial round hole, which is the garbage."
The Lucayan Renewal Holdings chairman added that he hoped to obtain a new appraisal, showing the estimated value of the resort's real estate and physical plant, by the end of this week. Its completion is key to enabling the SPV to complete its offering memorandum for prospective buyers, thereby launching the formal sales process.
Mr Scott was backed by Dionisio D'Aguilar, minister of tourism and aviation, with both men separately visiting Florida on Friday to meet with potential Grand Lucayan purchasers and assess their existing operations.
"There's certainly a lot of interest," Mr D'Aguilar told Tribune Business, "but having people interested is one thing. It's what you need to close the deal. The devil is in the detail. We're looking at people we think are serious and discussing their vision and idea.
"We're telling them what we can and can't accept, so they can adjust their proposals accordingly. We're trying to weed out who is a viable bidder and who is not. The way to do that is look at their projects and who they have coming out to make a proposal to see if they are credible and viable."