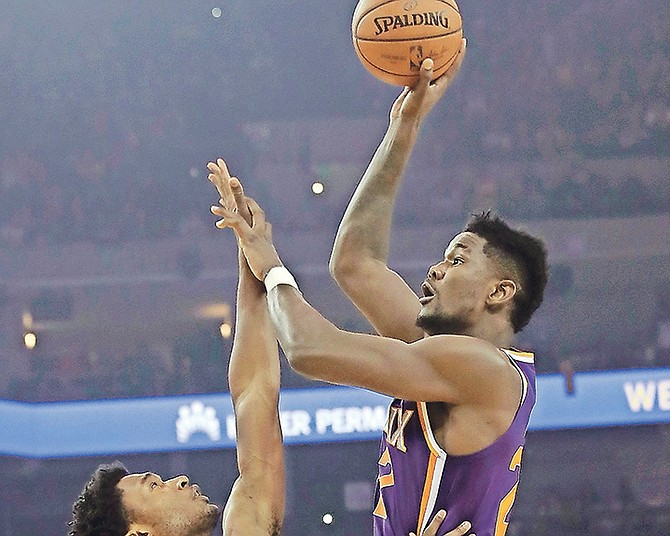 By BRENT STUBBS
Senior Sports Reporter
bstubbs@tribunemedia.net
The Phoenix Suns are going through their growing pains in the National Basketball Association and so is Deandre Ayton in his rookie season.
The Suns' No.1 pick in June's NBA Draft posted another double-double, but it wasn't enough as Phoenix fell short 123-103 to the two-time defending champions Golden State Warriors and Bahamian descent Klay Thompson at the Oracle Arena in Oakland, California, on Monday night.
Ayton, the highly acclaimed 20-year-old, 7-foot, one-inch centre, pumped in 20 points with a game high 14 rebounds and five assists as the Suns dropped to 1-3 to sit in a three-way tie for 11th place in the Western Conference and tied for third with the Sacramento Kings in the Pacific Division. "Every game I play I learn from it," Ayton said. "This game I learned about how fast we can move. Those guys are grown men and they were running faster than us. We've just got to keep up our energy and not come out slow and really lock in on defence."
Two other players were in double figures for the Suns as Devin Booker, back from an injury last year, paced the way with a side-high 28 points, six assists and five rebounds and TJ Warren helped out with 27 points, four rebounds and three assists.
With the win, Golden State improved to 3-1 for third place in the Western Conference and first place in the Pacific Division.
Thompson, in 25 minutes, scored 26 points with four assists and three rebounds, joining five other players in double figures as his backcourt running mate Stephen Curry led the attack with a game-high 29 points, eight assists and four rebounds.
The Warriors led from start to finish, taking a 32-23 margin at the end of the first quarter and extended it to 70-47 at the half. Although Phoenix made a run in the third, Golden State still managed to surge ahead 106-81 at the end of the final break.
The Suns, who trailed by as much as 30 at one point in the game, went on a 22-17 spurt in the fourth, but it wasn't enough.
The Suns will travel back to Arizona for a rivalry matchup against the Los Angeles Lakers in Los Angeles, California and the Warriors will remain at home at the Oracle Arena as they host the Washington Wizards. Both teams return to the court tonight.