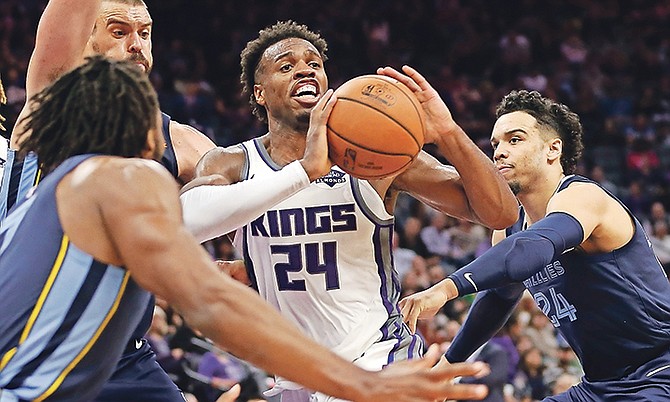 By RENALDO DORSETT
Tribune Sports Reporter
rdorsett@tribunemedia.net
Buddy Hield followed up Tuesday's disappointing game with a season high in scoring and minutes played as a part of a new-look, fast-paced Sacramento Kings offence.
Hield finished with 23 points on 10-20 shooting from the field, including 3-6 from three-point range in the Kings' 97-92 win over the Memphis Grizzlies Wednesday night at the Golden 1 Center in Sacramento, California.
He also added seven rebounds and two assists in 41 minutes. He credited his offseason workout regimen to his approach and productivity in his third year.
"You've seen me on the trampoline, doing all sorts of things, gymnastics, keeping my body in shape, conditioning, trying to be one of the first to cross the line every time [in conditioning drills], that's how I prepare myself for the season," he said. "No matter what, if coach wants me to play 41 minutes or 20 minutes, I try to give it my all the best I can."
Hield and backcourt mate De'Aron Fox combined for 44 points. The duo made back-to-back dunks to give Sacramento an 84-80 lead with just over seven minutes to play in the fourth.
"We have to run because when you have a speedy point guard like Fox, up and down, when he goes we have to run with him, we have to get out. I'm trying to beat him down the court to spot up so I can have a shot, if not he's going straight to the rim so we're just trying to run and spread the floor, just trying to find out what works best for the team, we have guys that are capable of making shots, putting the ball on the floor and making plays for each other," Hield said.
Hield scored seven in the final period, including a three-pointer early in the quarter that sparked the 14-2 run to put the game away.
"The guy's spirit is so pure," Kings head coach Dave Joerger said.
"He just keeps competing and all of a sudden, bang, bang, gets two shots to go in and things look a lot different."
The Kings improved to 2-3 on the season despite surrendering 17 turnovers, including what was nearly a pair of momentum-shifting eight-second violations and another five-second violation on an inbounds play. "We made a lot, a lot of mistakes, but we just kept coming and coming and coming," Joerger said. "We overcame those mistakes with our effort. They believe that if we play fast we have a chance."
Playing fast was a major talking point for the Kings this offseason during training camp as the team looked to change its identity.
The team aimed to improve their pace since training camp began.
"Coach says we're going to play fast, and I like it," Hield said on the first day of camp.
"I like running, so I'm not going to argue with that," Hield said. "We've just got to play fast, play together and play the right way."
The Kings finished 12th in the Western Conference last season with a 27-55 win-loss record. They were also 30th in the league in pace last season at 97.06 offensive possessions and were 29th in offensive rating at 101.1 and 29th in net rating at -7.9 making them one of the slowest offences in the league.
Hield averaged 2.3 points per game on fastbreak opportunities which ranked No.2 overall among second-year players.
"We want to push pace as much as possible," Joerger said. "These are really young bodies and I think guys had a moment when they realised this may be harder than I thought, but that's a standard we want to set - this is how we want to play, this is how hard we want to play, we want to be a greatly conditioned team and we want to play fast and when those things become who you are, it doesn't hurt day in and day out."