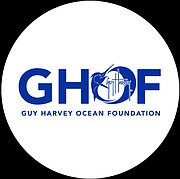 By RIEL MAJOR
THE Guy Harvey Ocean Foundation and the Norwegian Cruise Line hosted a presentation on ocean conservation for four local schools yesterday at the Bahamas National Trust Retreat.
Students from Mt. Carmel, Trinity Christian, Xavier Lower School, and Temple Christian all watched and participated in an interactive presentation. The presentation was led by Jessica Harvey who introduced five informative videos about Tiger Sharks, the Nassau Grouper, Parrot Fish, Lion Fish, and Oceanic White-Tip Sharks. Students were able to ask questions about the fish in the video and were tested on facts stated in the video.
The Guy Harvey Ocean Foundation conducts scientific research and host educational programmes aimed at conserving the marine environment.
Guy Harvey, Chairman, said: "We are here in Nassau to give presentations to schools which is a part of our port course and while we're on board we give presentations to all the guests and the crew as well about issues facing different marine animals, but more importantly marine conservation generally.
"Norwegian Cruise Line being one of the largest cruise ship companies in the world sails its ship through the Caribbean so all of the rescue issues that affect the Caribbean kind of affect their business too so it is really good that they have become so actively involved carrying out their message of conservation and thanks to Norwegian for that and also to The Bahamas National Trust for hosting us here today."
Eric Carey, Executive Director of Bahamas National Trust, said: "We do all of this science and we talk about conversation but you really have to bring it down to the level of young people and that is what we try to do with our discovery clubs instill at a very early age that the principles of conservations and we are not trying to create all tree huggers and all scientists but what we want is that they will have an understanding of the importance of the environment.
"What Guy and his team were focusing on today was looking at sharks, you know The Bahamas is now legendary as the first country in the Caribbean to declare a shark sanctuary, but we also talked about the Nassau Grouper which are obviously very important. So the objective of conservation is to ensure that Bahamians can always have Nassau Grouper for boil fish."