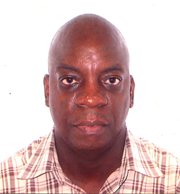 By BRENT STUBBS
Senior Sports Reporter
bstubbs@tribunemedia.net
ON Saturday night, another outstanding Bahamian professional boxer will be hanging up his gloves as Meacher 'Pain' Major, who brought a lot of excitement to the ring, will be performing his swansong.
One day before he celebrates his 37th birthday, Major will step back in the CI Gibson Gymnasium where he made his pro debut on his 19th birthday on October 28, 2000 with a technical knockout over Juan Trevino after he had an impressive amateur career.
It was in the same gym where Major won the vacant Bahamas lightweight title with a TKO over Richard 'the Hammer' Pitt on December 17, 2005 before he went on to capture the vacant World Boxing Association's
Fedecaribe lightweight title with a knockout win over Luis Couch on May 19, 2006.
Although he fought twice back-to-back and lost his bid for the WBA-NABA lightweight titles Michael Clark (June 19, 2009) and Dorin Spivey (November 6, 2009), Major has had an incredible journey and it's a pity that it's going to come to an end now.
One of the things I was disappointed with was the fact that Major never got a chance to fight for a British Commonwealth title. It would have looked a little better on his résumé.
Despite that one missing ingredient, no one can argue the fact that Major will go down in history as one of the more feared Bahamian boxers to suit up in the ring.
He went through the ranks under the tutelage of Ray Minus Jr, undoubtedly the greatest Bahamian lightweight champion ever. At the end of Minus Jr's career and the beginning of Major, there was some indication that the two would have squared off.
That never materialised, nor did the possible showdown between Major and Minus Jr's arch-rival Quincy 'Thrill-A-Minute' Pratt.
Major, however, had some tough encounters with boxers like Jeff Schuyler and Roger Rosa. I think his career, albeit 18 years, was a memorable one and his legacy will be one that will not be forgotten by the Kemp Road native who always inflicted pain on his opponents in 30 fights he had as he compiled a 23-6-1 win-loss-draw record.
He's going up against a Jamaican opponent, so you can expect for a large following from our neighbouring country. Let's hope that Bahamians can pack the gym to show their gratitude.
Thanks for the thrills and the spills Major Pain.
The Gloves are Up
They are not entering a boxing arena like Major, but Rosamunde Carey and Drumeco Archer have put on the gloves and are getting ready to duke it out as they prepare for the Bahamas Association of Athletic Associations' election of officers.
While Carey and her 'Bonafide Innovators' slate of officers returned from a launch in Grand Bahama over the weekend, Archer and his Meco Team, The Greatest of all Time, B The Goat team was officially launched on Wednesday night at the Thomas A Robinson National Stadium.
The two have presented their platforms and with the newly amended constitution in place, they will have to convince some 60-plus coaches to vote for them on November 24.
So over the next month, expect to see and hear a lot of wheeling and dealing as both groups articulate their manifesto to the delegates who, for the first time, will not include the executive officers.
The elections will be overseen by Mabeline Miller, the interim chief executive officer, as mandated by the constitution. The CEO, who will be responsible for the day-to-day operation of the BAAA, will be appointed by the board once the elections are done with.
And as specified by the new constitution, the coaches will get to vote for seven positions, inclusive of the President, First Vice President, Second Vice President, Vice President - Finance, Vice President - Business operation, Vice President - technical operations and Vice President - Marketing and Public Relations.
For the record, both slates are fully loaded, which makes for an interesting match-up in each category. Both have presented their cases and now it's up to the delegates to vote for the best man or woman to head the association for the next four years.
This should be a showdown for the ages.