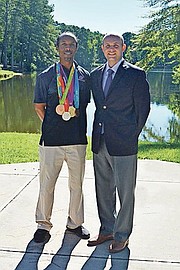 By BRENT STUBBS
Senior Sports Reporter
bstubbs@tribunemedia.net
CHRIS 'The Fireman' Brown, the country's most decorated quarter-miler, has decided to step away from competing after an illustrious 20-year career and focus on his new challenge as an assistant coach at Clayton State in Morrow, Georgia.
Brown, who resides in Atlanta with his wife Faith and their two daughters, was named to the team on Thursday by Ryan Erlacher, the athletic director, and will join the staff on the track team headed by Mike Mead.
Having celebrated his 40th birthday on October 15, Brown becomes the latest Bahamian track athlete to make the transition, following national 100 metre record holder Derrick Atkins, who last month was named an assistant coach of Western Carolina Catamounts Track and Field, with a focus on sprints, hurdles and relays.
A veteran of five Olympic Games, Brown steps into collegiate coaching for the first time following a tremendous international career. Over the course of his career that has spanned two decades, Brown has won medals world-wide but reached the apex of his career on the grandest stage of them all – the Olympic Games.
At the age of 21, Brown got his international breakthrough at the 2000 Olympic Games in Sydney, Australia where he teamed with Avard Moncur, Troy McIntosh and Carl Oliver to clinch the bronze medal in the men's 4 x 400 metre relay in a time of 2:59.23.
Although he returned to compete in his second Olympics in Athens,Greece in 2004, it wasn't until 2008 in Beijing, China where he got back on the podium with the silver with the combo of Andretti Bain, Michael Mathieu and Andrae Williams as they rang 2:58.03. At that same games, Brown had his best individual showing, coming in fourth in the men's 400m.
Four years later, Brown ascended to the top of the podium with the combo of Demetrius Pinder, Michael Mathieu and Ramon Miller for the gold in 2:56.72 in London, England. Then in Rio de Janeiro, Brazil in 2016, Brown and the team of Alonzo Russell, Michael Mathieu and Steven Gardiner had to settle for the bronze.
Also in four appearances at the IAAF World Championships, Brown competed with different partners as the Bahamas won gold in Edmonton, Canada in 2001; silver twice in Helsinki, Finland in 2005 and Osaka,Japan in 2007 and a bronze in Paris, France in 2003.
Brown's best individual feats would have been achieved at the IAAF World Indoor Championships where he was crowned champion in 2010 in Doha, Qatar; silver in 2014 in Sopot, Poland and three silver medals in Moscow, Russia in 2006, Valencia, Spain in 2008 and Istanbul, Turkey in 2012.
At the Commonwealth Games, Brown would have secured silver in Glasgow, Scotland in 2014 on the men's 4 x 400m team and bronze in Manchester, England in 2002. In Rio de Janeiro, Brazil in 2007 at the Pan Am Games, Brown captured gold in the men's 400 and was a part of the men's 4 x 400m team that was also victorious.
And at the Central American and Caribbean Championships, Brown also ran on the winning men's 4 x 400m relay teams in St George's, Grenada in 2003 and here at home in 2005. He was also a 400m silver and bronze medalists respectively.
When he got his international career started, Brown made his debut at the Carifta Games in 1997 in Bridgetown, Barbados where he claimed the bronze in both the 400 and 800m as a native from Wemyss Bight, Eleuthera making his transition to New Providence where he attended RM Bailey High.
Brown, who would also produce a pair of silver medals on the men's 4 x 400m relays at the IAAF World Championships here in 2014 and 2015, is a graduate of Norfolk State University. The former Bahamas national 400m record holder with a personal best of 44.40, currently holds the national records of 15.10 in the 150m, 31.99 in the 300m and 1:49.54 in the 800m.
While still competing, Brown showed his versatility by hosting two successful versions of the Chris Brown Invitational in 2013 and 2016. After the third edition in 2017 was cancelled, he was contracted as a consultant and athletes' liaison for the inaugural Grenada Invitational that was held at the National Athletic Stadium in St George's on April 8, 2017.
Although he has not yet officially announced his retirement from competing, Brown is pressing on with his new role as an assistant coach at Clayton State, whose nickname is the Lakers. They are a NCAA Division II school that competes in the Peach Belt Conference.