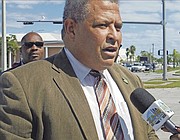 By DENISE MAYCOCK
Tribune Freeport Reporter
dmaycock@tribunemedia.net
COALITION of Concerned Citizens, a Grand Bahama activist group, has said "the economic oppression" of residents there cannot continue as it relates to the high cost of electricity.
Pastor Eddie Victor, president of the coalition, said both businesses and residents have experienced "sharp" increases in their electricity rates during the summer.
"Many customers have seen increases in their bills, as much as three times or more over the rest of the year," he said.
He said CCC has held several town meetings in Grand Bahama since January to inform residents of a proposed new solar power plant by a Bahamian owned utility company.
Northern Bahamas Utilities (NBU) has made an application to the government to build two solar power plants outside Freeport that the company says will result in lower electricity costs for consumers in those areas.
Mr Victor said that CCC supports NBU's proposed project.
"It is consistent with our mission to advocate for the lower of cost of electricity in the island, and the CCC fully endorses this proposed initiative. We also fully support our government's efforts to lower the cost of electricity across The Bahamas," he said.
CCC has been advocating for lower electricity rates on Grand Bahama for some time, and has held protests, demonstrations, boycotts, and petitions against the Grand Bahama Power Company.
GBPC is the sole energy provider on the island. However, the 1993 West End and East End agreements between the GBPC and the government which allowed the power company to supply and sell electricity in those areas expire this year.
Mr Victor is appealing to the government not to renew those agreements with GBPC.
He said that the main reason why NBU's proposal should be approved is because it is from a Bahamian owned company that will make electricity affordable for Bahamians.
"This will allow businesses to experience economic relief, and residents across the island when the cost of power is lowered it will improve the quality of life for people on this island.
"We should be proud that we have reached this stage in our nation's history where we have qualified Bahamians who have the ability, capability, and finances to be able to build power plants in their own country. This is a tremendous achievement once we see government gives its approval," he said.
NBU is a 100 percent Bahamian-owned company. Its principals, directors and management are said to be qualified Bahamian engineers who were also former employees and executives of the GBPC for many years.