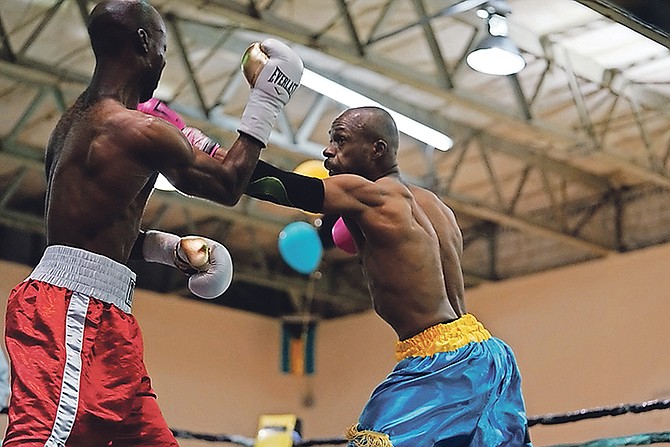 By RENALDO DORSETT
Tribune Sports Reporter
rdorsett@tribunemedia.net
Meacher Major brought the pain one last time and ended his storied boxing career with a knockout win in what he called a "homecoming" for himself, family, friends and supporters.
Major's right hook to the body floored Martin Anderson of Jamaica and secured the knockout at the 2:10 mark in the third round in the main event of the "The Last Dance" at the CI Gibson Gymnasium on Saturday.
"In the first round I felt I had some good body shots early, so I thought I just had to take my time, pick the right shots rather than just going out there and trying to go all out and it would come naturally, and it did," Major said. "I wanted to give him more, that's why I decided to throw lighter punches in the earlier part of the rounds. He caught me with a few good shots, which I liked because I wanted the fans to see a good performance for the last time, before I hang up the gloves forever."
Major and Anderson first faced each other in April 2016 at the Caribbean Showdown, hosted at the Kendal Isaacs Gymnasium. In a super featherweight main event, Major secured a second round TKO.
He concludes his professional career 24-6-1 (19 KOs).
From the fight was first announced, Major said it was important to both him and his fan base to host the event at CI Gibson. A minor injury forcing a date change may have also been an act of serendipity to coincide with his birthday and the first fight of his career nearly 18 years to the date.
"I got a few good rounds in but I wanted to go at least four to five rounds," Major said. "Tonight was all about a celebration for the fans, the support was fabulous. I have to thank God for the opportunity of having my last fight at home, at my school, CI Gibson. I thank my family, friends and supporters for coming out. It was an awesome feeling coming back to fight here, the storyline behind it is great. This was where I had my first fight, where I had 90 per cent of my amateur fights, where I fought for the Bahamas lightweight title and there was no better way for me to end my career than here at home. It was a homecoming."
The undercard was highlighted by Bahamian pro Anthony "Psycho" Woods against Neco Yeyo of Jamaica. Woods won on the scorecard via split decision.
There was also an exhibition featuring some of the youngest members of Major's "Major Pain Boxing Club."
In his time away from the ring, Major established his MPBC in an effort to develop a new generation of young fighters and give back to the community. In his post-fight career, he now supplements that with Major Pain Fight Promotions. "I just want to build the sport of boxing here in the Bahamas with my new company. My passion has always been the youth and building this sport of boxing," he said, I would like to thank all my fans that have supported me throughout my career. You all have motivated me to go harder each time I step in the ring. I will continue to help those I can, mainly the youth from who are my priority to help first. To all the youth coming up, never give up on your dreams, no matter what it is. Believe in yourself and ability. Keep God first as the priority. I am one of the males from the ghetto that was told won't make it."
Event sponsors included Button's Bridal and Formal Wear, Bet Vegas Casino, MacFit360, TAB Therapy,Prickle Patch, K's Beauty Supply, Hidden Beauty, Pyramid Cinemas and Unicity.
Major got his career started under the tutelage of Ray Minus Jr and Michelle Minus on October 28 2000 when he pulled off a technical knockout (TKO) over Juan Trevino on the undercard of the Ray Minus Jr vs Quincy Pratt Final War at the CI Gibson Gymnasium.
He made his debut overseas with a unanimous decision over Mario Jones two years later on March 23, 2002 at the West Tampa Convention Center in Tampa, Florida. At the time, he was working in the Warriors Boxing Club in Hollywood, Florida under the supervision of Jesse Robinson, who gave him his nickname, "Major Pain."
However, he suffered his first loss in his next fight in a split decision to Edner Cherry on August 9, 2002 at the A La Carte Event Pavilion in Tampa before he went on another three-win streak.
He then got his first and only draw on his birthday again in 2004 at the Seminole Hark Rock Hotel and Casino in Hollywood, Florida against Felix Lora before he reeled off two more victories here at the Wyndham resort.
After another loss to Lamont Peterson on August 20, 2005 at the Isle of Capri Casino in Biloxi, Major won his next five fights, including the vacant Bahamas lightweight title over Richard 'the Hammer' Pitt on December 17, 2005 at the CI Gibson Gymnasium and the vacant World Boxing Association's Fedecaribe lightweight title overt Luis Couch on May 19, 2006 at the Wyndham Resort.
During the rest of his career, Major fought three for the WBA-NABA title, losing his bid for the lightweight crown back-to-back in 2009 to Michael Clark and Dorin Spivey at the Convention Center in Buffalo, New York and for the super featherweight title to Logan McGuinness on May 12, 2012 at the Hershey Centre in Mississauga.
Following two consecutive losses on the road, Major returned home and was triumphant in three of his last four fights, the last coming on December 16, 2016 against Roberto Acevedo at the Kendal Isaacs Gymnasium.
There were a lot of bitter sweet highs and lows. I don't try to overlook the situations I had to go through, it would only keep me down and I don't want to hate anyone," he said, "I'm just happy with the things I was able to accomplish. I was happy I was able to sustain a long successful career without getting hurt, without looking punch drunk or being used and abused within the boxing game."