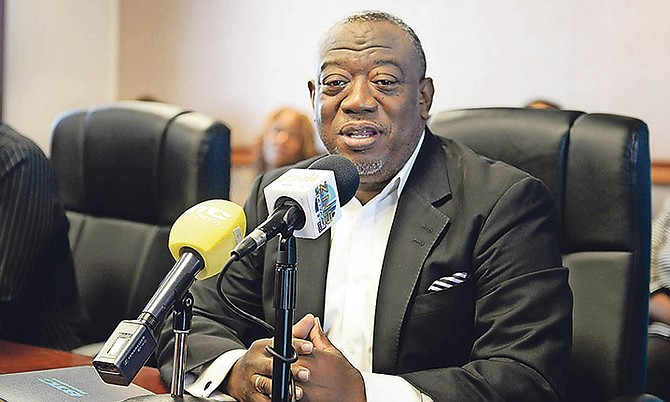 By NEIL HARTNELL
Tribune Business Editor
nhartnell@tribunemedia.net
A trade union body is "not screaming" about the need to finance National Health Insurance (NHI) given that its members will not have to pay any extra from already-stretched salaries.
Bernard Evans, pictured, the National Congress of Trade Unions (NCTU) president, told Tribune Business that the umbrella body and its members had been assured that the proposed worker payments to finance NHI - capped at $42 per month or $500 per year - would come out of existing premiums for those already enjoying private medical insurance.
He revealed that this explanation came when the NCTU met Graham Whitmarsh, NHI's managing director, in the wake of the Government's revised NHI model being released for public consultation last week.
Backing NHI as a concept, Mr Evans said that while he understood concerns that the financing mechanism would place too great a burden on workers and the private sector, especially following the recent 60 percent VAT rate hike, access to quality, affordable healthcare was "too important and critical to ignore".
While expressing the NCTU's willingness to partner with the Government on the scheme's development, he added that the union body wanted to make sure NHI "doesn't run away from us" by compromising access to quality care - especially access to foreign medical institutions and treatments if needed.
Mr Evans also suggested that NHI's financing mechanism needed to be progressive, so that those on higher incomes paid more than Bahamians who "cannot afford for another dollar to come out of their pocket".
Describing the Government's proposal as "beneficial", the NCTU chief said the unions expressed several concerns to Mr Whitmarsh, including the absence of illnesses that are widespread among Bahamians but absent from the NHI benefits package.
Identifying these as high blood pressure and diabetes, Mr Evans said the umbrella union body had also raised the issue of health insurance coverage for retirees. The NHI managing director, in return, expressed a willingness to consult with the NCTU and ensure its views were taken into consideration in structuring the scheme.
"We welcome NHI. We know it's needed. It's a good start overall," Mr Evans told this newspaper. "We as workers want to partner with the Government with respect to NHI. We want to ensure it doesn't run away from us, and maintain the quality of care, which could happen if we don't have the proper vetting.
"Hopefully we can get NHI to the state where other countries utilise it, take the best from those countries and fine tune it so that it gives the best opportunity for healthcare in this country."
He added that trade union members would also be reluctant to give up their existing medical insurance and benefits, and said: "While we don't scream against taxes with regard to paying for NHI, we do want quality healthcare if we have to pay for it.
"We want it to be accessible, as we get quality care internationally directly and want to keep that in place, so we have the option to go out of the country for the best care."
The Government's NHI proposal mandates that its minimum care/benefits package, known as the Standard Health Benefit (SHB), be incorporated into existing individual and employer-sponsored health insurance plans.
The SHB package is currently projected to cost $1,000 per year, or an $83 per month premium payment, split between employer and employee as a payroll tax - effectively mirroring the structure and mechanism used for National Insurance Board (NIB) contributions.
Employees will pay either 2 percent of their salary or 50 percent of the SHB premium, whichever is greater, capped at a maximum of $42 per month or $500 per year. Mr Evans, though, explained that based on Mr Whitmarsh's presentation to them, all Bahamian workers that are currently covered by medical insurance will not have to pay anything extra for NHI's SHB package.
"The model they have is going to shave this $42 from the current premium you have now," the NCTU leader told Tribune Business. "That will come out of the premium currently paid, so it will not impact us."
Because the NHI scheme is structured so that the SHB package is incorporated into existing health insurance policies, those with current coverage will not have to pay anything extra from their salaries for it. A portion of their existing premium will instead go towards it.
The same is likely to apply to employers, although a number of companies may well elect to drop their existing plans and just take NHI's SHB instead. Private insurance companies will be able to sell so-called "top-up" plans for those wanting additional coverage.
Asked whether NHI was too much for the economy to bear, Mr Evans replied: "I understand VAT and all that, but healthcare is so important and critical to the country it has to be paid by the people. I don't really view it as a tax per se."
He warned, though, that the Government would need to bring the public health infrastructure - including hospitals and clinics - up to standard should the NHI funding mechanism be approved, as the unions would "not be paying for something that is sub-par".
Mr Evans said "a better understanding of where the economy is", and the conditions affecting different income groups, was required to ensure NHI contributions were linked to a person's ability to pay and did not "put any undue pressure on persons who are languishing and cannot afford it".