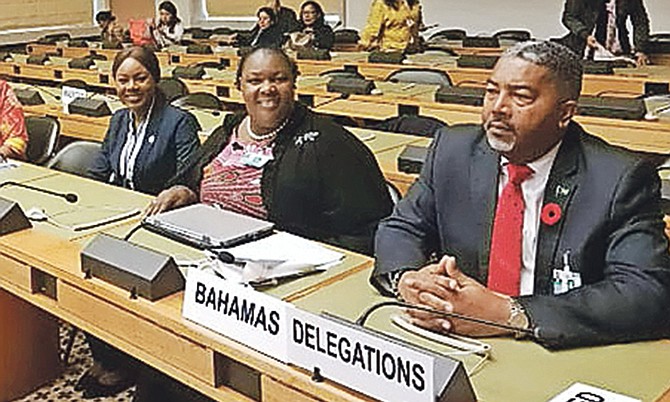 By RICARDO WELLS
Tribune Staff Reporter
rwells@tribunemedia.net
AN activist has suggested that government delegations appearing before international treaty bodies either set out to be "intentionally deceptive," or local officials are allowing pressure groups to stifle or reverse efforts to expand women's rights.
Alicia Wallace, director of Equality Bahamas and Tribune columnist, was responding to the government's dismissal of the position on abortion put forth by a senior health official at the 71st Session of the Committee on the Elimination of all forms of Discrimination Against Women (CEDAW) in Geneva.
Sherry Armbrister, senior nursing officer in the Ministry of Health, revealed last week that the government was working on a patients' bill of rights that would address the right of women in The Bahamas to have abortions if they so wished.
The statement was quickly walked back by both Attorney General Carl Bethel and Health Minister Dr Duane Sands over the weekend, both insisting that there were no plans to review the legal status of abortions on the government's working agenda.
Ms Wallace, in commentary provided to The Tribune yesterday, called the clarification "telling", contending that the matter must be urgently addressed in law, policy and practice.
"(They) should be embarrassed to say reproductive rights are not a priority, especially given the irresponsible, misogynistic commentary in recent years about women's bodies and sexual and reproductive rights," she said.
"However unpopular or uncomfortable the conversation may be, LBTQ+ women, sex workers, women living in poverty and members of other vulnerable communities deserve to be acknowledged; have their needs met, and be regarded as human beings rather than 'taboo topics,' and the government is bound by its commitments to this end," she added.
Meanwhile, addressing the topic again yesterday, Dr Sands said while a national discussion on abortion may need to happen, it is not on the government's legislative agenda right now.
"We have an evolving society and there are significant issues that, while controversial, will need to be a part of the national dialogue. But, 'will have to be' and 'is', are two different things," he said in a follow-up interview yesterday.
"There is no language in the draft patient bill of rights that speaks directly to abortion, and understanding what a hot-button topic this is and the fact that we live in an admittedly conservative community, walking down this road requires significant consultation and consideration of views of our people.
"The Ministry of Health has not, nor has the Office of the Attorney General engaged in any activity to (change) the existing laws on abortion on the books in The Bahamas," he added.
However, Dr Sands asserted that Bahamians would have to eventually come around to the reality that they live in global world where international bodies such as CEDAW are looking in and monitoring.
"CEDAW is concerned with intimate partner violence, a massive problem in The Bahamas and in the world. And so, this is not going to go away and we just need to be brutally honest about who we are and how we intend to deal with this matter this year, next year, five years from now.
"Bahamians are not monolithic in their views and some Bahamians believe that we are behind, some people believe that we are too far, other people believe that the United Nations should just shut up and mind their own business; that is certainly not my position," Dr Sands said.
"We are a part of a world community and the entire world is looking on at us and how we conduct ourselves, how we manage vulnerable persons in our community; they look at how we treat immigrants, how we treat children. This is the world that we live in," he added.