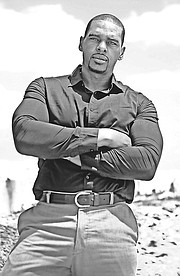 By ETHAN QUANT
I love to cook! In actuality, that may have been a major contributing factor to me putting on so much weight in the first place.
When I was in college and missing home, I would cook Sunday dinner just like my mother used to. Beans and rice with coconut milk and escovitch fish, potato salad and BBQ ribs and all of my favourite foods – you would have thought I was cooking for a family.
Of course, nothing is wrong with knowing your way around the kitchen. However, in my case, as I was not disciplined, knowing how to cook ended up leading to poor habit-forming behaviour. The problem I had was that I would eat all that food and then sit down to relax afterward. Inactivity, plus emotional cooking and eating only compounded the issue.
Before I knew it, I was well on my way to being over three hundred pounds.
When I started on my health, wellness and fitness journey, cooking wasn't my issue. I already knew the benefits of preparing meals in advance, and I never had a problem with eating leftovers. Actually, I think that some food tastes better a day or two after it's cooked.
My issue was what I ate and becoming disciplined on when and how much I consumed. It's easy to falter when you're trying to get in shape because your schedule or finances prevent you from approaching your lifestyle transformation in an organized manner. However, if you can put in the time on the front-end, meal prepping can be a great help in keeping you on track and maintaining a routine.
Now, I know that everyone can't meal prep for one reason or another. But if you can, I would seriously encourage you to try it. At the end of the day, you would have to consider what works best for you.
I have found that a major key to remaining consistent on my health, wellness and fitness journey is to meal prep. These days most of us lead busy lives with obligations to jobs, children, family, household and extra-curricular activities. Meal prepping makes it a bit easier to stay on track with your nutrition goals, especially if you are short for time or always on the go.
So here are some key things to consider when thinking about meal prepping.
Before you begin to meal prep, make a small investment in proper storage containers and ensure you have space to store your food. If you're relatively new to the whole meal prep concept, you might want to start off with prepping meals one or two days in advance.
The time that you spend preparing, as well as the amount of food you make is entirely up to you. Just remember, the idea is to simplify healthy eating for yourself. Not all food requires pre-cooking; prepping in advance can be done in a variety of ways. For example, you can cut up your herbs and vegetables, clean your fruits and season your meat in advance.
Now, you should prepare your meals according to your taste. After all, you do want to enjoy your food. Feel free to use seasoning, spices and sauces that you enjoy. Also, if you're preparing lean protein such as chicken breast, you can prepare two to three variations of it at the same time. This can be achieved through seasoning and using condiments like mustard, ketchup and BBQ sauce.
Once you're finished prepping, have your storage containers ready. Always make sure that you have a food scale, measuring cups and spoons to ensure you're eating the correct portions. Before you leave your home each day, pack your meals and snacks. Especially if you want to reach your goals, this is a good way to eat to keep your diet on track while on your health, wellness and fitness journey.
So if you're interested in saving time and money, then meal prepping is the way to go!
Without a doubt, when you're first starting out, it can be daunting. Thankfully, help is never far from reach. If you need assistance navigating any aspect of your health, wellness and fitness journey, feel free to reach out to me directly. Always remember, at the end of the day, you have the power to be successful in health, in fitness, and in life!