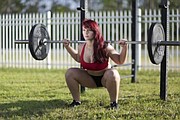 By ALESHA CADET
Tribune Features Reporter
acadet@tribunemedia.net
AS A fitness enthusiast and a person who genuinely cares for peoples' physical and mental health, Alex Pelanne of Bombshell Fitness recently hosted what she calls a much needed "Mental Health" social media live-talk.
In collaboration with Daria Delancey of 700 Island Psychology, the duo invited Bahamians to share their stories and experiences, as she believes, the more people share and realise how common mental struggles can be, the less stigma will become attached to having a mental illness.
"I have recently become more vocal about my own struggles with anxiety and mental health, and I had been getting a lot of feedback from people privately who are dealing with it themselves but aren't in a place to speak up," said Alex.
"After connecting with Daria, we thought it would be beneficial for both of our audiences to hear us tackle the subject of mental health. We're now realising this is a conversation that we need to continue to have in this country. There is a stunning lack of resources in the Bahamas for mental health support and we believe we can use this as a platform to get the conversation started and hopefully advocate for better resources in the future."
Often, she said it's shame and fear that prevents people from seeking help as soon as they notice they're experiencing mental health challenges. At other times, information barriers prevent them from accessing help.
"There are people out there struggling with their mental health and because of the way our society stigmatises having a mental illness as you automatically being crazy, they live in denial and never get the help they need. Those same people need to know they are not alone and they are not crazy or weak for having a mental illness. That is what the webcast is for," said Alex.
For those who missed the live talk last Friday, Alex said the video can still be accessed via IGTV @__clarisse.
"I think that more Bahamians need to become aware that facing mental challenges or even having a mental illness such as anxiety, depression or PTSD to name a few are common experiences that we all share. Facing challenges like these do not make you crazy, they do not make you incapable of being a productive member of the community, and they definitely do not make you an outcast either. Caring for one's mental health should take the same priority as caring for your physical health and the only way we can get people to realise that is to talk about it and seek out help for ourselves when necessary," said Alex.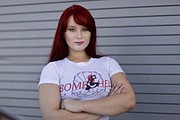 She believes the most important advice she can give someone is to make slow and steady changes over time. She believes barring urgent medical advice, drastically changing your diet and increasing your activity levels, coupled with having an "all or nothing" attitude, is the easiest way to set yourself up for failure.
"By doing that you're setting unrealistic expectations for yourself that take a lot of effort to fit into your current lifestyle, and when your willpower gets low, you falter and think that you failed because of it. Successful dieters know that they're gonna slip up and don't punish themselves for it or think that they've failed. They take it in stride and just keep on trucking," said Alex.
For Alex, her motivation comes from her love for the gym and Bombshell Fitness - a business founded by her with a conviction that every woman should be able to pick up a barbell with confidence and know what she's doing with it.
"I firmly believe the gym can be an empowering place for women and the strength that comes from working out will translate into confidence and strength in other areas of their lives. In and out of the gym, every woman should be able to feel like a bombshell," said Alex.
Located in Freeport, Grand Bahama, Bombshell Fitness offers services such as: personal training, private small group training, online programs and consultations for corrective exercise programming, as well as large group sessions held at the YMCA in Freeport every Tuesday and Thursday at 9am.
"I have been weight training consistently for almost five years now. The gym at first for me was all about fitting a certain image that I had in my head, so for a good while all of my training was centred around aesthetics. However, after my first bodybuilding show I got injured and in the process of rehabbing myself I found an even deeper love for strength training, which then made me switch my training style to powerlifting and Olympic lifting.
"I feel like having gone through all of these different styles of training has allowed me to become an even better coach by giving me hands on experience that I can then pass on to my clients. I have been a coach for the past three years, and have recently become certified in Personal Training and Corrective Exercise through NASM," said Alex.