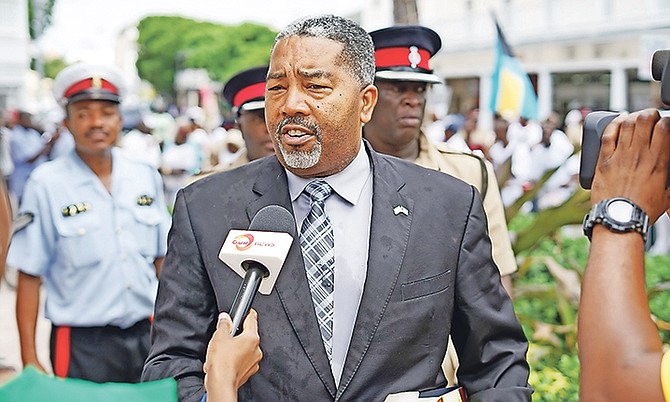 By AVA TURNQUEST
Tribune Chief Reporter
aturnquest@tribunemedia.net
SOCIAL Services Minister Frankie Campbell suggested yesterday that the position on abortion by a senior health official before a United Nations committee last week was taken out of context.
Mr Campbell stressed the comments by Sherry Armbrister, senior nursing officer in the Ministry of Health, only inferred the looming Patient's Bill of Rights could pave the way for discussion on abortion.
Outside of Cabinet he defended the performance of his delegation at the 71st Session of the Committee in Geneva on the Elimination of all forms of Discrimination Against Women (CEDAW).
"I Imagine if you would take it into context," he told reporters, "because everything is in context. In the context in the way the question was framed, the response was, that there is a group addressing a possible legislation as it relates to the Patient's Bill of Rights. And then the comment went on further to say this could pave the way to addressing abortion."
Mr Campbell said: "…So take it into context. It wasn't saying that we have a law pertaining to abortions, the Patient's Bill of Rights could pave the way to a discussion."
Addressing the international forum in Geneva, Switzerland last Thursday, Ms Armbrister revealed the government was working on a Patient's Bill of Rights that would address the right of women in the Bahamas to have abortions.
Ms Armbrister implied that a substantial bill of rights was being fine-tuned and could head to Parliament, with a view to pave the way for, among other things, a youth emancipation framework and the right for women to have abortions.
"Currently we are working on a patient's bill of rights, which has to go to Parliament, and once that is passed or when it is passed, it will pave the way for us to deal with the emancipated youth as well as the right for a woman to have [an] abortion," Ms Armbrister told the UN committee.
The UN committee had asked the Bahamian delegation, which was led by Mr Campbell, to clarify the measures being taken to broaden the condition under which abortions can legally be made available in the country - mainly in instances of rape, incest, severe foetal impairments and risk to the health of a pregnant woman.
The statement was quickly walked back by both Attorney General Carl Bethel and Health Minister Dr Duane Sands over the weekend, both insisting that there were no plans to review the legal status of abortions on the government's working agenda.
Dr Sands reiterated on Monday while a national discussion on abortion may need to happen, it is not on the government's legislative agenda right now.
Yesterday, Mr Campbell said: "Remember us being on this journey. So on a journey, every time you take one step, you are able to see another step that you need to take. So in the context the Patient's Bill of Rights could pave for that discussion.
"And whether we believe it or not, there are some hard discussions that we are going to have to have as a nation. Whether or not the government agrees to it legislatively is another issue."
He added: "But we need to know that there are some discussions that we are going to have to have and abortion seems to be one of those discussions."