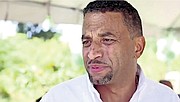 By NEIL HARTNELL
Tribune Business Editor
nhartnell@tribunemedia.net
The Bahamas was yesterday urged to explore alternative industries to its "crushed" financial services sector, the DNA's former leader warning: "Let's not fool ourselves."
Branville McCartney told Tribune Business that this nation was "complying itself right out of the industry" with how it responded to an unrelenting international regulatory offensive that had caused further negative fall-out for The Bahamas within the past week.
Speaking out after the UK government called on its financial institutions and companies to apply greater scrutiny to financial transactions originating with The Bahamas and its clients, he argued that the "ultimate goal" of the Financial Action Task Force (FATF) and similar bodies was to "close down our banking industry".
Suggesting that The Bahamas' small size, and limited international influence, meant there was little it could do to withstand the onslaught, Mr McCartney said he had been personally impacted as recently as this week when one of his "offshore bank" tenants downsized ahead of leaving his property at month's end.
He reiterated his previous call for The Bahamas to diversify away from financial services, which has been under attack for almost two decades, and urgently explore new sectors such as medical marijuana to help fill a potential gap caused by the loss of high-paying jobs and foreign currency earnings.
"I don't know what they want from our country," Mr McCartney said, after the FATF placed The Bahamas on an 11-strong "monitoring list" of nations with "structural deficiencies" in their anti-money laundering/counter terror financing (AML/CFT) regimes that could pose a risk to the global financial system.
"Ultimately I think their goal is to really close down our banking industry. No matter what they do their going to keep on moving the goal posts and come up with some reason why we're not complying. I see they're now saying we don't have enough prosecutions for money laundering and the like.
"Ultimately, they want their monies out of this country and back in theirs. I don't think we need to fool ourselves any more. Any time they put certain requirements on our country we do our best to comply. We're going to comply ourselves right out of this industry."
The consequences of The Bahamas' inclusion on the FATF list, together with war-ravaged nations such as Syria and Yemen, and others - none of whom is a major player in global financial services - continue to deepen with the UK's Treasury advising all institutions and businesses conducting business with this nation to now apply greater scrutiny to their dealings as a result.
It has advised them to "take appropriate actions to minimise the associated risks, which may include enhanced due diligence measures in high-risk situations" - meaning that financial transactions between the UK and The Bahamas may be subject to greater scrutiny and delay, interrupting commerce and increasing time and costs for all concerned.
"We as a country need to start looking at other means and mechanisms, and other industries," Mr McCartney told Tribune Business, suggesting that the 'writing is on the wall' as regards the Bahamian financial services industry's future.
"What we need to determine as a country is what we are going to do to counter this. It's like a business selling a particular product, and it loses its value and interest, and they have to look at other products to sell. That's what we have to do as a country.
"Let's not fool ourselves. No matter what we do, whatever we put in place, is not going to be sufficient. We've seen this over the last 18 years. It's a tough call as to whether we comply or otherwise. It's a Catch-22 situation. We're very small in the scheme of things. If we don't comply we're 'blacklisted', which has severe consequences, and if we do comply we kill the industry."
The ex-DNA's leaders comments reflected the fears of Paul Moss, president of Dominion Management Services, who told Tribune Business yesterday that he feels The Bahamas is losing the will to "fight" for its financial services industry's survival.
"We really need to step up and fight, but I don't believe we have that fight any longer," he said. "They're being so relentless in coming after us that we don't seem to have the fight any more. We've got to get ahead of it and make a move to try and save the industry. That's where we are now."
Mr Moss added that the UK Treasury's warning in response to the FATF listing will cause "greater stress" for the Bahamian financial services sector, as it now almost seemed to be facing demands coming at the rate of "one a day".
The UK's advisory, he said, would subject Bahamian financial transactions to "the scrutiny everyone seeks to avoid", resulting in potential delays that impact commerce and cost participants time and money.
"We're taking longer to get it done, and that's not going to be an advantage. That's a disadvantage for us," added Mr Moss, calling for a more proactive response by the Government to secure the Bahamas' removal from the FATF list.
Mr McCartney, meanwhile, said he has been personally impacted as a landlord, explaining: "I have a tenant who is an offshore bank that downsized this week. At the end of this month they will be out of my building because they had to downsize. There's a ripple effect.
"Our hands are in the lion's mouth: Period. What do we do in circumstances like that? The country is faced with a difficult situation, so let's look ahead, be innovative as a country and use the resources we have here to build.
"When one door opens another two open. Let's take that alternative and move forward. It's unfortunate, but there's nothing we can do. Let's think about it. They have crushed the financial services industry and will continue to crush it. It is what it is. Let's look it straight in the eye, accept it and move forward."
The Minnis administration has already made moves to diversify the Bahamian economy beyond its reliance on the "twin pillars" of tourism and financial services with its "technology hub" ambitions for Grand Bahama, and focus on the "blue economy", maritime and agriculture with Inter-American Development Bank (IDB) funded projects.
Urging The Bahamas to be proactive, Mr McCartney said: "Medical marijuana is something we need to pursue urgently now. That is something we have in abundance. They don't call it 'weed' for nothing. It means it grows anywhere. Let's make something natural for us, grown in our environment, and get money for it."
The FATF effectively started the Bahamian financial services industry's near-20 year decline when it "blacklisted" this nation in 2000, and Mr McCartney said its latest listing featuring this nation showed "nothing has changed to any great extent" over the past 18 years despite numerous legal and regulatory reforms being enacted.
"There's nothing we can do to satisfy them," he added. "As a matter of fact the industry is dying. What they will do at the end of the day is eventually shut us down."