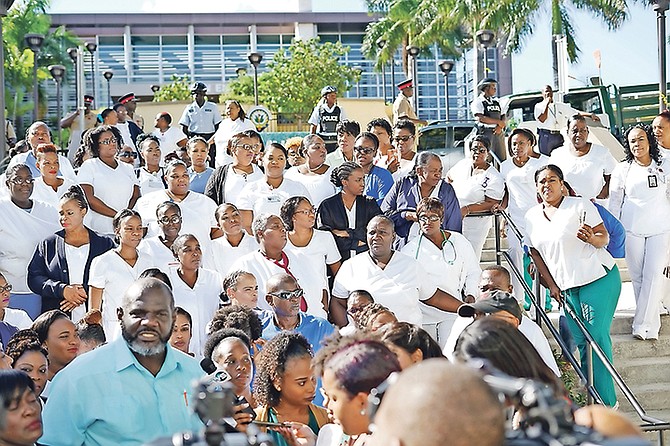 By RASHAD ROLLE
Tribune Staff Reporter
rrolle@tribunemedia.net
A 2014 shift change agreement between the Bahamas Nurses Union and the Public Hospitals Authority is null and void, according to Jannah Khalfani, the woman who as former union president signed the document on behalf of the BNU.
The agreement stipulated that nurses' shifts would change from four on/four off to five on/two off.
Whether the agreement is enforceable is at the heart of the dispute between PHA and BNU, with health officials insisting it empowers the authority to implement a shift change because both sides signed the document.
Yesterday, Ms Khalfani recounted what led to the signing of the 2014 agreement, painting a picture of a union that outwitted top PHA officials by capitalising on their apparent ignorance of the proper procedure for changing the terms and conditions of the nurses' employment.
The shift change issue was raised during negotiations between BNU and the Ministry of Health concerning the industrial agreement for nurses employed by the Department of Public Health. It was PHA's then managing director, Herbert Brown, who sought to make progress on that agreement contingent on addressing the shift change he wanted for nurses employed by PHA, Ms Khalfani said.
Desperate for a deal for Department of Public Health nurses, Ms Khalfani said the union signed the 2014 shift change agreement to pacify Mr Brown and PHA so it could move on to other negotiating issues.
"They were trying to put us against a wall," she said, "so the paper was signed and we moved on. However, we knew it had to be incorporated into the industrial agreement to matter. Once the paper was signed both sides ought to have known that the PHA still had to send a proper letter to the union saying they wanted to open the industrial agreement up and renegotiate certain terms. They never went through that process."
Ms Khalfani said the process laid out in the industrial agreement for how to change nurses' terms and conditions is very specific.
"If they wanted the change," she said, "firstly they would've had to send a letter to request that the industrial agreement be opened up so the night duty shift change could be discussed. That was not done. They never sent a letter to get the process started. They only addressed the issue with us around the table while we were negotiating a separate agreement. If they did send us an official letter, the procedure for what must come next is clear.
"The union would've been required to present that letter to its members, informing them that PHA wants to reopen the industrial agreement for negotiation. Then the union would set a date with PHA, a meeting to review what was on the table. Ratification had to happen. Union leaders aren't there representing themselves at the table. When the PHA formally says what it wants, the union has to go back to its members and present the letter and say this is what they are putting to us, we need a counter-proposal. Even now they are not doing it properly. This is what happens when you grapple with people with no respect. They come to the table and want to bully but ignore the industrial agreement and what it says must happen," the former union leader said.
When the 2015 industrial agreement was ratified, it did not incorporate a shift change. Yesterday, attorney Wayne Munroe said nurses could be right about the applicability of the 2014 shift change agreement.
"There is a Court of Appeal decision that says unless something is in the Industrial Agreement there is no entitlement to it," he said.
Nurses are fighting the night shift change because they say it would overwork them. Studies show nurses who work night shifts are more likely to develop heath issues than nurses who work day shifts. Under the PHA's desired shift change, nurses could work five eight-hour night shifts and have two days off, whereas some now work four ten hour shifts and have four days off.
"Nurses' shifts are a global problem," Ms Khalfani said. "We sent research to PHA showing them the problems associated with night shift. Night is a special time. Working those shifts messes up a nurse's circadian rhythm. Our bodies are designed to sleep, to rest at time for optimum functionality. When you allow nurses to work four ten hour night shifts and then have four days off that was better for their well-being than what is being proposed now."
Ms Khalfani said if PHA wants to increase the number of nurses on during a single shift and clamp down on overtime pay, other shift arrangements are better.
"We gave them research that speaks to 12-hour night shifts," she said, adding that nurses in such cases would work only three days per week. "The good news about 12 hour night shifts is at some point that shift will overlap with another shift for a good three to four hours, helping with manpower whereas with three separate eight-hour shifts, the shifts would never overlap."
It's not clear what impact 12-hour shifts have on nurses' health, however. One study by academics at the University of Southampton concluded that such shifts "may lead to reduced nurses' well-being and healthcare systems' loss of productivity."
On Monday, nurses across the country staged lunch hour "walk outs" in protest of the shift change, set to take effect in December. There were no reports of similar activity yesterday, according to a PHA official.