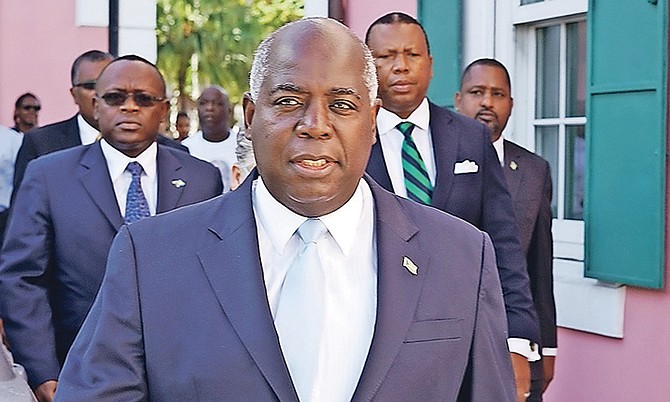 By KHRISNA RUSSELL
Deputy Chief Reporter
krussell@tribunemedia.net
THE Minnis administration should be "embarrassed" by the halt of its increased taxes on web shops, Progressive Liberal Party Leader Philip "Brave" Davis insisted yesterday, adding it was "disgraceful" Bahamian businessmen have to be forced into the courts to determine their rights.
Mr Davis further contended the government had dropped the ball in adequately considering the concerns of web shop operators, when those of affluent Lyford Cay residents appeared to result in the government stepping away from increased taxes on foreign-owned undeveloped land in the Bahamas.
The government on Friday agreed to delay its sliding scale tax on web shops and its five percent stamp tax on web shop patrons, the latter of which was to come into effect this past Saturday. Continuance of the taxes will depend on the outcome of a court hearing on October 5.
It came after operators filed an application in the Supreme Court seeking leave for judicial review on both taxes.
Having to argue their rights in court is not only proof there is "discrimination" at play, but evidence these taxes were not thought through properly, Mr Davis said.
"Whenever you have a government that continues to force its citizens to take it to court, you have to concern yourself about the mindset of that kind of government," Mr Davis told The Tribune yesterday. "It speaks to arrogance. It speaks to stubbornness. It speaks to an attitude of 'my way or the highway' - that is not the way to govern the country.
"The apparatus of the government is far superior to an individual or individuals. It's disgraceful for a government to force its citizens to take it to court for a citizen to be able to get his rights determined when it only requires a sitting down of the parties and an understanding and appreciation to derive a balanced outcome.
"For example, they seemed to have responded to one group of people. The Bahamian people screamed about the 12 percent value added tax. They went ahead with it. I don't think that was fair.
"There were some cries out of Lyford Cay with their taxes. They appeared to have responded with that and the cries came from the web shop operators they don't respond favourably. In that context, their response to this does appear to be discriminatory to some cries and ignore others without any sort of explanation."
In early August, Finance Minister Peter Turnquest announced the government would revert to the previous definition of owner-occupied properties which was in effect up until June of this year. This came after concerns from affluent Lyford Cay residents were published in The Tribune, saying the government's increased property taxes would drive wealthy second homeowners out of the country and deter new ones from acquiring property here.
However, Mr Turnquest insisted the government's decision was not a bid to appease irate Lyford Cay residents, but the result of weeks of consultation with industry stakeholders. He also insisted the change did not have any impact on projected tax income, and as such, could not be viewed as a reduction in the tax rate to any individual or group.
Mr Davis continued yesterday: "The question arises that our system requires that if you are going to tax an industry or kind of business, one would have thought you would have a conversation with them, particularly when this is a young industry in the sense that it's just been legalised and I think there are still some growing pains in the application of the legislative regime that been there."
Under the sliding scale, those web shops earning up to $20m in revenue would be taxed at a rate of 20 percent and those falling between $20m and $40 would be taxed at a rate of 25 percent. Others earning between $40m and $60m were to be taxed at a rate of 30 percent while those in the range of $60m and $80m at a rate of 35 percent. Those between $80m and $100m were to be taxed at a rate of 40 percent and over $100m, at 50 percent.
Mr Davis said it appears the government may be too concerned with taxing one industry into the ground.
He said: "If that is the case they are approaching it in the wrong way because where you might expect to get your revenue, you might not be getting it because you have to take into account what I call the elasticity of new taxes.
"People will curb their habits and businesses could change the manner in which they do business for us to minimise their tax liabilities. So this is not the way to say meet your revenue projections by deliberately taxing one segment of your economy to the point where you may run them out of business. If you shut them down you lose that revenue all together there has to be a balance because there will be unintended consequences.
"It shows the short-sightedness of the government. It is very difficult to say what is intended. I am still trying to understand why they think they have to introduce these kinds of taxes. They still haven't said what empirical data they have relied upon," Mr Davis said.