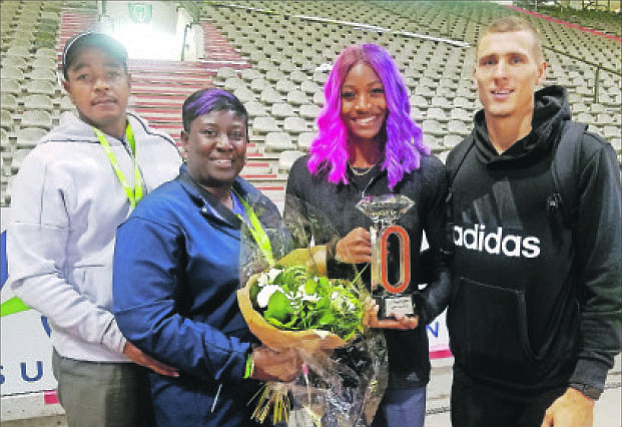 By BRENT STUBBS
Senior Sports Reporter
bstubbs@tribunemedia.net
BRUSSELS, Belgium — There's nothing like having your family support when you are competing. For double national 200/400 metre national record holder Shaunae Miller- Uibo, she gets an extra boost whenever she can look into the stands and see her husband and parents there cheering for her.
The feeling was mutual for her family members. "It feels good. After last year, I tried to make it my business to be here for this one," said her proud mother Mabeline Miller, who missed watching her daughter clinch the 200 and 400 metre crowns last year. "We knew this one was going to be spectacular, so I made it a big effort to come to this one."
And even though the 24-year-old Bahamian double national record holder opted to defend just her title in the 200m, Miller said she was content just to watch her daughter pull off the victory.
"She wasn't doing that much 400m this year, so I think she accomplished what she wanted to do in the 400m this year, which was to get the national record," stated her mother, who is the assistant secretary of the Bahamas Association of Athletic Associations. "So her goal was just to focus on the 200m and she did that. So I'm pleased with her final in the 200m."
Miller said she would liked to go to Ostrava, Czech Republic this weekend when her daughter, along with high jumper Donald Thomas, will represent the Bahamas on the Americas team at the IAAF Continental Cup. But she said the thrill of victory in Brussels is another one to cherish.
As a former coach of his daughter, Shaun Miller prefers to be in the background. But he didn't mind getting in the foreground to share in her success this time. "I'm just happy to be here to watch her pull off another victory in the Diamond League Final," he said. "At the beginning of the season, the plan was to get her running more 200s to develop her speed because the next three years, it's going to be difficult for her with the Worlds in 2019, the Olympics in 2020 and the Worlds again in 2021. "It's going to be three hard years ahead of her, so we're praying her health and if God's willing, she will come out victorious for the Bahamas."
Just a year into their marriage on February 4, 2017 at Atlantis, Miller-Uibo's husband Maicel Uibo said it's always a joy for him to join his wife in any type of celebrations on and off the track. "It's just a great feeling and I'm just happy to be able to support her," he stated.
And as an athlete himself, Uibo said he's not concerned whenever she competes. "If she says she got it, I trust," said Uibo, who claimed that Miller- Uibo predicted to him before the race that she was going to pull it off.
"I just want her to go out there and do what she has to do. Whatever I can do to assist us in her preparation to compete, that is what I'm here for."
Uibo, however, is hoping that one day he will make it a double whammy when he can also ascend the medal podium with his wife with a victory in the men's decathlon (nine different disciplines held over two days) - an event he competes in for Estonia.
The 6'2, 25-year-old multiple athlete was a bronze medallist in the heptathlon (reduced to seven disciplines) at the IAAF World Indoor Championships in Eugene, Oregon, where Miller-Uibo was on the sidelines cheering him on.