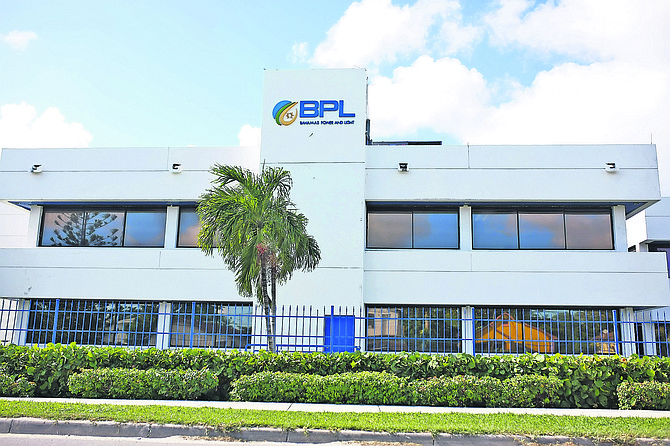 By KHRISNA RUSSELL
Deputy Chief Reporter
krussell@tribunemedia.net
BAHAMAS Electrical Workers Union President Paul Maynard claimed yesterday that around 50 non-Bahamians were set to be brought on at Bahamas Power and Light in the aftermath of 314 workers receiving voluntary separation packages.
Expressing his anger at the situation, he told The Tribune he has told his members that if anything happens to one foreign worker who recently showed up at the company, they should "leave him on the ground dead" as a sign of the strongest form of rejection to officials hiring non-Bahamians at the power provider to do jobs Bahamians are equipped to do.
The main point of contention on the matter, he said, is there has been no union consultation.
According to the union leader, the first of the group of foreign workers showed up to BPL yesterday morning and instructions were reportedly given to Bahamian workers to train the new additions. This is the result of a management services agreement the company has with Burmeister & Wain Scandinavian Contractor (BWSC), a global diesel engine producer, he explained.
Should it not be rectified, Mr Maynard threatened industrial action. He said the union would not sit idly by allowing foreigners to "rape" the company and by extension the country.
"A foreigner showed up this morning (Monday) telling my manager in stores he got to train this Indian or wherever he from," the union chief told The Tribune yesterday.
"I want to know how it is that immigration (is) letting Indians in this country to do stores, work a Bahamian could do. I don't understand what is going on. BWSC has never given this company value for money, never ever. They never trained our people properly. They trained them halfheartedly," he alleged. "I don't know what they are there for.
"They say they hired them because of the management services agreement. But that can't be right. If the people didn't like the way the government gave Power Secure a management services agreement, how the hell you gonna bring someone (else) there (when) you get rid of Power Secure saying that a management services agreement was a waste of money?
"Now you gonna bring in a company that has never given this country value for money and give them a management services agreement too? Our people can't fix the engines? Bahamians can do the jobs."
Mr Maynard further suggested BPL management was to blame for inefficiencies at the company because of the high volume of employees allowed to take VSEPs.
"You let my people go and talking about these people coming to an agreement? My thing is I told the CEO that what he needs to do is whenever anybody comes into this company, he needs to identify someone right away from our union or from management and have them shadow so that knowledge could be transferred. Everybody raping this country," he added.
Asked whether the union was considering industrial action, he said: "Well duh…because you never talked to me about it. How the hell this. . . idiot could just come in here and tell my man he got to train this damn foreigner? He don't give us no orders and we ain't taking none from them.
"Oh no they they haven't (spoken to us) and this is my point of contention, you need to communicate what the hell you doing.
"Because I can tell you, I tell you right now, if something happen to him, I tell my people leave him on the ground, dead, we ain't picking him up. If we could save him we ain't saving him," Mr Maynard said.
However BPL CEO Whitney Heastie last night told The Tribune the union's concerns were wide of the mark.
All that is happening, he said, was that six or seven employees of the Danish firm BWSC - which has worked with BPL for a number of years - have been drafted in to help with two issues at the Clifton Pier plant.
The first issue relates to cataloguing thousands of engine parts stored at the plant which, over the years, have been stored under a variety of names.
"At the moment you can look for something but if you don't know all the names it could have been held under you'll never find it," said Mr Heastie.
"The individuals we've taken on are all marine engineers, specialists not manual labourers, who will get these valuable parts into the sort of catalogue which actually works.
"At the same time they will be working alongside Bahamian employees passing on their knowledge on the operation and maintenance of the engines at Clifton.
"As everyone knows Clifton has never worked as it was designed to do. These two measures will go a long way to improving matters.
"The union really has nothing to worry about here. Improving the service we provide for BPL's customers is our priority and these measures will help do that."

This is the latest point of contention at BPL since its entire board resigned last month, which blew the top off of the plethora of issues taking place behind the scenes.
After the resignations, Works Minister Desmond Bannister said the former board constantly bucked heads over key decisions to the detriment of the company. Mr Bannister, who has responsibility for BPL, has laid the blame for dysfunction at the former board squarely at the feet of its ex-chair, Darnell Osborne. She and two other board members have strenuously rebutted his claims and shot back with their own accusations.
Prime Minister Dr Hubert Minnis later said he ordered a formal investigation into the saga.
Later, when the new board was appointed, it came to light Mr Moxey had previously lobbied the company seeking an agreement for the use of his company's payment app MobileAssist.
And while his company CBI Mobile does not presently have a contract with BPL, Mr Moxey soon found himself the subject of public backlash after saying he saw nothing wrong with the company being awarded a contract in the future so long as he recused himself from the discussions and final decisions.
But this was put to rest after Mr Bannister said last week CBI Mobile would not be awarded any contracts as long as its owner was chairman of BPL's board.