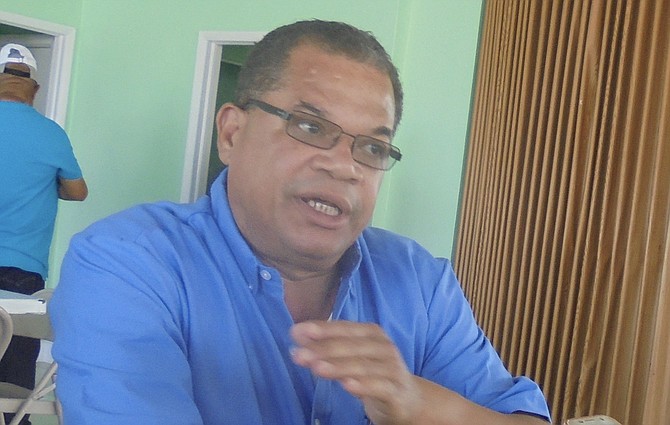 By AVA TURNQUEST
Tribune Chief Reporter
aturnquest@tribunemedia.net
THE clause in the heads of agreement struck between Pointe developers and the previous Christie administration outlining the ratio of Bahamian to foreign labour has two interpretations, according to Labour Minister Dion Foulkes yesterday.
Mr Foulkes told media outside of Cabinet the Minnis administration has opted to interpret the clause that calls for a 70/30 labour split in favour of Bahamians, as a requirement to be satisfied over the lifetime of the project, and not a static ratio.
He was challenged by Progressive Liberal Party leader and former minister of works, Philip Davis, who yesterday called on Mr Foulkes to provide the clause.
Mr Davis also questioned why the government would adopt an interpretation that disadvantaged Bahamians.
"This heads of agreement was designed where you can read it two different ways," Mr Foulkes said. "You can read it in a fashion which says it be 70/30 at all times or you can read it in a fashion that says at the end of the project, the minimum has to be 70 percent Bahamian and 30 percent non-Bahamian.
"As you know this agreement was something we inherited from the previous administration but government is continuous and we are not casting any blame on the persons who put this agreement together."
He continued: "But I must say that there has been a significant increase in the Bahamian work component at The Pointe and beginning next summer, according to management, it will be over 70 percent Bahamian component. Additionally, by the end of the project they are estimating it will be close to 85 percent. If you level out the Bahamian component over the lifetime of the project, it will be over 70 percent, and that is how we are interpreting it."
Mr Foulkes added: "We are looking at the end result, more importantly we want the project to finish so that over 600 Bahamians can be permanently employed."
This follows repeated calls from the Bahamian Contractors Association (BCA) and its president, Leonard Sands, for the government to show just how many Bahamians are currently employed at the $200m downtown Nassau development. The BCA previously branded as "hogwash" the government's finding that The Pointe is not in breach of its heads of agreement on labour ratios.
However, Mr Sands agreed yesterday the agreement - as tabled by the former government – was vague, and could be interpreted in two different ways.
Mr Sands argued the principal concern was the lack of clarification on how Bahamians, skilled labourers and contractors, can engage the project.
"(The HOA) also promised work permits for up to 500," Mr Sands said, "they thought that made sense. The challenge we are having with this HOA, it says in detail at the peak of construction. I am a project manager of ten plus years, I've had my fair share of developments, the peak of construction could be determined in any number of ways. It's an area that is gray.
"We need clarification, and we request a sit down with stakeholders of this development. I don't want a political statement, my membership is not interested in the politics. My members are interested in how do they derive benefits as Bahamians for their families from this project happening on downtown Nassau. I want the developer sitting down with us, or clearly outlining that in a press statement."
Mr Sands continued: "How do we engage our contractors in the Bahamas? There is no clear path on how to engage in the project. I would have expected at this point in time The Pointe or its contractor would have announced it to the public.
"We're not happy with the way the project is being developed because it's too ambiguous on the engagement for locals, there is too much vagueness on how to be a part of the project. "Months ago, Wu (a Pointe official) said 150 contractors, no project will have 150 contractors. You will need a project the size of western New Providence for that.
"I'm against the manner in which the project is being allowed to progress without full clarification of opportunities to local contractors and how they can engage the project so our economy is fully benefiting. We can maximise the economy benefit with further engagement of local contractors who spend their money here," Mr Sands said.
Mr Foulkes told media outside Cabinet a joint exercise was agreed upon with Pointe developers after the government's report last month "did not quite coincide" with the workforce survey submitted by its management team.
Labour Director John Pinder and a team of investigators visited the worksite on Monday. Mr Pinder is expected to soon deliver a definitive report.
Meanwhile, Mr Davis insisted yesterday the interpretation given by Mr Foulkes was wrong.
"My recollection of the HOA is that it would be 70 percent Bahamian and 30 percent foreign labour and that was supposed to be throughout the contract," Mr Davis said.
"It's obvious (government's interpretation) will mean that the Bahamian workforce would be deprived of earning a living, that means they will be losing about 40 percent of the workforce, they would be losing the opportunity to earn a living and also the consequence of that in so far as the economic impact to the community."
Mr Davis continued: "I don't know where Mr Foulkes would be getting that second interpretation from, that's wrong, and it's depriving Bahamians. That's not the arrangement that we left in place.
"(Mr Foulkes) just needs to point out the provision he's talking to that may have this double meaning, and even if it admits to two interpretations, you adopt the interpretation that favours Bahamians.
"So if he's admitting there is two, why would he want to adopt the interpretation that disadvantages Bahamians?"