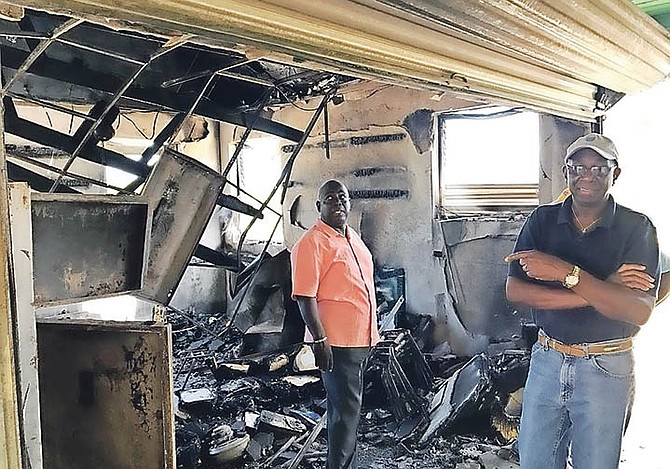 By KHRISNA RUSSELL
Deputy Chief Reporter
krussell@tribunemedia.net
THE health and safety of thousands of students were put at risk this week when schools still in need of repairs received children, Progressive Liberal Party Leader Philip "Brave" Davis said yesterday.
He said this was a face saving move by the government to avoid public criticism and embarrassment.
Mr Davis further questioned how a Bahamas Telecommunications Company contract for fibre optic technology at schools ballooned from $2m to $7.5m.
"On the opening of schools, there is a big difference between opening the schools and the readiness of schools to receive students on the designated opening day," the Cat Island, Rum Cay and San Salvador MP said during a press conference yesterday. "We know that $6m was initially requested for summer repairs but only half that amount was made available. This raises the issue of short cuts. Additionally, contractor mobilisation was generally late across the board.
"Eye witnesses have reported late arrivals of material on job sites. Students reported having their uniforms soiled with wet paint at Eva Hilton and shared the same on social media. "Materials arrived at T G Glover just this past Saturday therefore painting and other repairs are ongoing as I speak."
Mr Davis claimed work at A F Adderley is ongoing and needed repairs at the Black Point School have not yet begun.
Repairs to the high school in San Salvador were limited to 10 percent of the works identified as priority out of the works scoped, he further claimed, adding the weekend fire at the All-Age School in Rum Cay was confined to the stand-alone tuck shop building, but the classrooms which suffered minimal water damage are generally usable.
"The state of school repairs I described are the cases at numerous public schools across the country so the public schools were not ready to receive students on Monday, September 3, but in my view, to save face and avoid public criticism and embarrassment, the government simply opened the schools and negligently placed the health, safety and well being of thousands of students at risk.
"These are the critical issues of governance the prime minister should be focusing on rather than playing politics and engaging in public relations and photo-ops in Exuma and San Salvador. I point out that the prime minister failed to extend the courtesy of inviting me, the representative, on an official visit to my constituency. I cry shame on the prime minister. This whole affair is inexcusable."
Regarding the public school technology contract signed on Sunday, Mr Davis requested to see the agreement to determine how the value of work increased by $5.5m.
"The minister of education has announced a $7.5m contract with BTC for internet and technology upgrades within the public school system. This is a continuation of the PLP government's project to upgrade public schools, but given an increase in the budget from $2m to $7.5m, we need to see the agreement and publicly request a copy of the contract to determine how the value of the scope of work increased by $5.5m.
"I am advised that before we left office, the Cabinet agreed that Cable Bahamas would install fibre optic cable to 100 public schools at $2,500 per school at a cost of $250,000. "Additionally, the contractor would provide 2,500 tablets for a grand total of $2m. The contract this government signed is valued at more than three times the original scope of work so it's in the public's interest for the government to make this contract available for public scrutiny.
"Further, under the BTC agreement, the PLP questions whether or not the government issued a request for proposals (RFP) for the additional $5m," Mr Davis said.
Yesterday, Free National Movement Chairman Carl Culmer defended the Minnis' administration's handling of the education sector.

"Our Prime Minister Dr Hubert Minnis has always placed a priority on education because he knows it's the key for our children to prepare for the future," Mr Culmer noted in a statement. "And the FNM government has made it clear that we must provide families and students with more opportunities when it comes to schooling. We must ensure that they have the ability to learn and compete in an ever changing global economy that has become more and more focused on technology.
"The FNM government has taken concrete steps in that direction signing a contract with BTC to upgrade and run fibre optic cable into all government schools. These new fibre optics will allow both the teachers and our students to be able to use 'smart technology' which is quickly becoming required of our students as they prepare for their futures.
"The steps that our government have taken since coming to office highlight the dedication and commitment that the FNM government has to making sure that all Bahamians have every opportunity to succeed and determine their own path. Our government is working to bring our schools up to date in terms of technology and in renovating our physical infrastructure to meet the needs of our students and teachers. We have also established scholarship programmes for both students and teachers and are in the process of creating universal (pre-school)," Mr Culmer said.