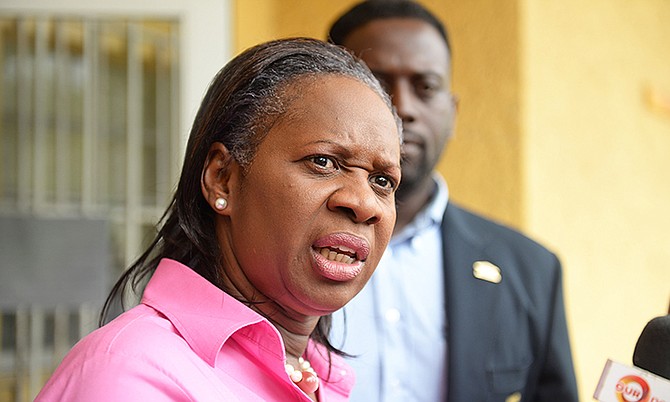 By AVA TURNQUEST
Tribune Chief Reporter
aturnquest@tribunemedia.net
THE string of allegations levelled against President of the Bahamas Union of Teachers Belinda Wilson over her conduct at the helm of the organisation have not dissipated, according to its Secretary General John Musgrove.
Mrs Wilson brushed off questions yesterday, telling The Tribune the matter was a non-issue and any outstanding concerns had been settled at the union's annual general meeting in June, when its membership spoke loudly in support of her.
"The press has to know when it's just mischief from an actual story," she said.
"It's a non-issue, this is the same old story. We're moving on, some people just have to learn to accept when they've lost."
However, Mr Musgrove told The Tribune yesterday the investigation launched by the union's ethics committee nearly five years ago is "far from over."
"There are numerous issues being investigated by the ethics committee, and the executive committee," Mr Musgrove said.
However, he said, there are no matters presently being investigated by police.
A source told The Tribune the latest round of allegations concerns monies paid to Mrs Wilson as back pay for salary she would have earned during her suspension.
However, Mr Musgrove declined to comment on these claims yesterday.
In 2014, she and BUT Treasurer Lorraine Knowles were suspended amid allegations from the union's executive committee that more than $1.1m from the union's pension and savings account was wrongfully spent.
In January 2015, Mrs Wilson had her suspension overturned by a three-member appeals committee, which said it found no evidence of any wrongdoing on the part of the president as was alleged.
In March of that year, however, Mrs Wilson and Mrs Knowles were again served with another suspension for alleged "blatant violations" of the union's constitution.
Mrs Wilson was later suspended "indefinitely" pending the results of a police investigation into alleged violations of union procedures. No charges were ever filed.
She had been embroiled in a bitter dispute with members of the union's executive team over the accusations and frequently locked horns with Zane Lightbourne, who served as acting president during her suspension.
Mrs Wilson was returned as president in April 2017 following a landslide victory over her chief opponent.