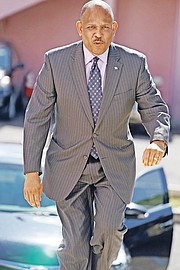 By NICO SCAVELLA
Tribune Staff Reporter
nscavella@tribunemedia.net
HEALTH Minister Dr Duane Sands took the stand yesterday in former PLP Senator Frank Smith's criminal trial, but his testimony was cut short after the defence took exception to Dr Sands' revelation that there have been previous occasions where the minister of health approved contracts without the approval of the Public Hospitals Authority's board of directors.
Chief Magistrate Joyann Ferguson-Pratt granted the one day adjournment after Smith's lead attorney Keith Knight, QC, said his side was "embarrassed" by Dr Sands' claims that in 2014 and 2015, there were instances where the then-minister of health approved contracts that may or may not have been approved by the PHA board.
Dr Sands' revelation came a day after PHA Board Secretary and Legal Advisor Leslie Isaacs alleged during her testimony that there was a breach of standard PHA protocol through the approval of a $1.9m contract to Magic Touch Cleaning Company, the business owned by the virtual complainant in Smith's trial, Barbara Hanna, ahead of the board's approval.
This contract was approved about three months after Smith faced criminal charges.
Yesterday however, Mr Knight objected to Dr Sands' claims — which arose from a question put to him by lead Crown attorney Edward Jenkins, QC, arguing that the minister's claims were not contained in his original statement to police, and as such the defence was not privy to that information and unable to adequately address it.
Mr Knight further contended that Dr Sands' claims raised the issue of the health minister's knowledge at the time of PHA's protocols, how he came to be knowledgeable of what he claimed in court yesterday, as well as the capacity he served in at the time.
Furthermore, Mr Knight noted that Dr Sands made the claims during examination-in-chief as opposed to cross-examination or re-examination.
Giving his opinion on the issue, Chief Magistrate Ferguson-Pratt said that it would only be fair for Smith's legal team to be served with notice of any evidence the Crown intends to rely upon that is separate and apart from Dr Sands' original statement and/or its primary case against the accused.
Crown prosecutor Kendra Kelly, in seeking to defend the Crown's position on the matter, asserted that while she accepts that the Crown must disclose the evidence it intends to rely on, Dr Sands' original statement merely serves as a summary or "guideline" and may not cover everything the witness may say on the stand.
Chief Magistrate Ferguson-Pratt said she concurred with Ms Kelly's assertion that the Crown has a duty to disclose its case, but said that if the Crown intends to lead its evidence in summary fashion, it cannot then, in fairness to the defence, rely on "extraneous" issues which in turn go to the "crux and core" of the present case.
Mr Knight proposed that the Crown facilitate Dr Sands giving a further statement to police concerning Smith's case, which would in turn be disclosed to Smith's side and that the defence would in turn take no exception to it being served at such short notice.
Mr Jenkins indicated that he would be "more than happy" to oblige the defence's request, and that he had no intention of deviating from the rules of disclosure.
However, the English attorney indicated that he would not be rushed in doing so, and suggested that securing a fresh statement from Dr Sands could take longer than the allotted time for yesterday's proceedings.
Noting that the matter could not proceed any further in the circumstances, it was consequently adjourned to 10am today.
Smith is facing 15 criminal charges concerning his alleged solicitation of $65,000 in bribes from a woman he is said to have assisted in getting a contract. He is currently out on $50,000 bail.
It is alleged the former PHA chairman, between April 2016 and April 2017, demanded and obtained $5,000 per month from Mrs Hanna, knowing he was not lawfully authorised to do so.
He is also alleged to have attempted to extort another $5,000 from Mrs Hanna.
Concerning the bribery charge, it is alleged that he solicited $5,000 a month from Mrs Hanna for helping her to get a PHA contract.
Smith pleaded not guilty to all the allegations during his arraignment last July.