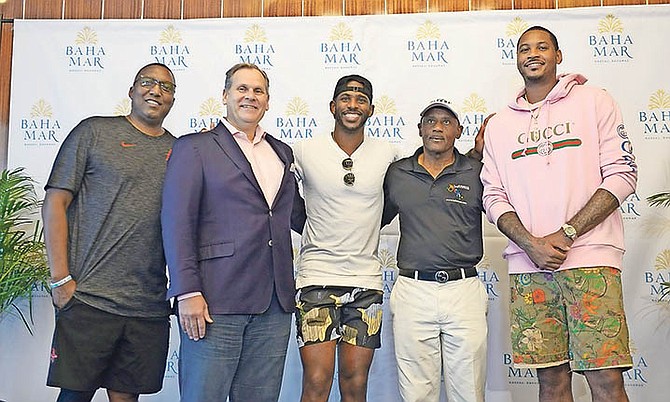 THE Houston Rockets have returned to the Bahamas and the Baha Mar resort for another mini-camp as they prepare for the upcoming 2018-19 National Basketball Association campaign.
The Rockets players organised their second consecutive offseason trip to the Bahamas and hosted a series of workouts this week at the Kendal Isaacs Gymnasium.
Rockets All-Star point guard Chris Paul said the trip to the Bahamas offers the players an opportunity to bond amongst themselves ahead of next month's official training camp.
"We had an opportunity to come down here last year with our team. We had a great season, didn't get to where we would have liked to, but it was a great season. Everyone has been unbelievable and gracious to us, we just want to say thank you to everyone involved."
Paul, the 13-year veteran, has visited the Bahamas on several occasions, previously making appearances at the Jeff Rodgers Summer Basketball Camp.
"I've been coming down here since I was a rookie and I've always enjoyed being here. My parents should be here in about two weeks as well," he said.
"This partnership has become somewhat of a family. We appreciate being able to come out here, have a good time and work so we can be ready for this grind of a season."
The Rockets finished last season 65-17 and were the top overall seed in the Western Conference. They advanced to the Conference Finals where they lost to the Golden State Warriors in seven games.
This offseason, the team re-signed Paul, Gerald Green and Clint Capela. They also added several new additions to the roster, including Michael Carter-Williams, James Ennis, Marquese Chriss, Brandon Knight and most notably, 10-time All-Star Carmelo Anthony.
"I want to thank the Bahamas for allowing us to come down here to use these facilities and to the Baha Mar, our stay was nothing less than phenomenal," Anthony said.
"People have showed us respect and great hospitality. This is a place where I can see our families coming here and spending time. I just want to say thank you on behalf of the entire Rockets organisation."
Following the Bahamas trip, the Rockets will prepare for training camp and their preseason schedule which begins on Tuesday October 2.
The regular season tips off on Wednesday October 17.
"On behalf of the Houston Rockets' players and staff, we had a great week during the mini-camp. Guys worked hard, they had fun, the experience we had here was amazing," said Keith Jones, Rockets senior vice president of operations.
"The National Sports Authority was wonderful with the gym, met our every need and we look forward to doing this every year, getting a little sun and getting a little work in at the same time."
Graeme Davis, president at Baha Mar, said the partnership with the Rockets ties into the investment Baha Mar has made in the sport of basketball at both the local and international levels.
"I want to welcome the Rockets back here to the Bahamas. I know last year was a devastating time in Houston around this same time but we're just thrilled the team was able to come back to the Bahamas this year to enjoy some great weather and some incredible hospitality here at Baha Mar," he said.
"From our perspective it's so important to keep supporting basketball here in the Bahamas as well and we certainly have a close relationship with the game here with the Bahamas' national team.
"It is also a thrill to be able to welcome the Rockets. They continue to be a great partner, along with Ministry of Tourism, Ministry of Youth, Sports and Culture and we look forward to this in many years to come to have them here for rest, relaxation and, of course, some practice."