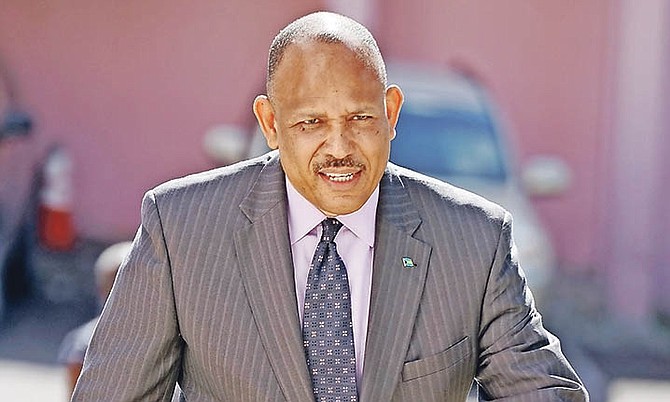 By NICO SCAVELLA
Tribune Staff Reporter
nscavella@tribunemedia.net
HEALTH Minister Dr Duane Sands yesterday admitted that the key prosecution witness in former PLP Senator Frank Smith's criminal trial contributed financially to his political campaign in the lead-up to the 2017 general elections.
Taking the witness stand before Chief Magistrate Joyann Ferguson-Pratt, Dr Sands said Barbara Hanna contributed some $300 towards his bid to become the member of Parliament for the Elizabeth constituency.
Additionally, Dr Sands said he was fully aware Mrs Hanna was a contributor to his most recent campaign before he approved a $1.9m contract to be awarded to her business, Magic Touch Cleaning Company, without the approval of the Public Hospitals Authority's board of directors.
Additionally, Dr Sands revealed that one of Mrs Hanna's two sons, Andy Hanna, was "on occasion" a worker in two of his political campaigns, being paid to do so in 2012 but serving as a voluntary worker in 2016-2017.
However, Dr Sands maintained that the primary reason why he moved to approve the contract for Magic Touch without the board's blessing was because of a "crisis" at the Princess Margaret Hospital where the contractor at the time was underperforming, thus prompting him to take action to remedy the issue. He said health officials also sought legal advice from the Office of the Attorney General on the matter.
Dr Sands said as minister of health he has access to the ministry's records and stated that the standard protocol concerning tenders at PHA is not always followed.
He said he has knowledge of and has seen documentation of instances occurring in each of the last five to six years when there has been deviation from the standard procedure.
"It has happened many times," Dr Sands said.
According to Dr Sands, he first made contact with Mrs Hanna sometime around November 2016 after one of his staff members called her number.
He said as Mrs Hanna had donated $300 to his campaign, he was calling her, as he also did with his other donors, to thank her for the contribution.
He said as is his custom, he gives his donors his cell phone number, and sometimes opts to give out his home phone number. However, he said, in Mrs Hanna's case, he only opted to give her the former.
At the time, Dr Sands said he did not know Mrs Hanna had children, but later found out she had at least one daughter and at least two sons, one of whom he admitted worked on his political campaigns.
Dr Sands said he first met Mrs Hanna in person on June 20, 2017, however, between that time and when he first spoke with her on the phone, he had conversations with her that inevitably thrust him into the heart of Smith's court matter.
According to Dr Sands, Mrs Hanna informed him that she had secured a contract with the PHA and was required to make cash payments to Smith, then the PHA's chairman, in the amount of $5,000.
Dr Sands said after revealing that information to him, Mrs Hanna asked if he was able to do anything about it.
Dr Sands said he responded by asking if she had spoken with Dr Perry Gomez, former minister of health, about the issue. Dr Sands said when he suggested that Mrs Hanna take the matter to the police, she said she wasn't prepared to do so.
Dr Sands said he personally didn't do anything about the issue, but he ended up receiving "many, many" calls from Mrs Hanna – as many as 15 missed calls a day.
A lot of the calls, he stressed, would be her trying to call him, and as was his custom, he would call back at the end of the day.
Dr Sands said when he returned her calls, she would give the same complaint of having to pay Smith $5,000 in cash. Dr Sands said when he again told her to take it to the police, she said she didn't want to because she was afraid of being harmed, because she was dealing with "very powerful people."
Dr Sands said once he realised that the calls kept coming, and her insisting that she was afraid she would be harmed, he said he would connect her to the minister of national security. That way, Dr Sands said he reasoned, her safety would be assured.
Dr Sands said he subsequently gave Mrs Hanna Marvin Dames' contact information, and also sent her contact information to Mr Dames.
Dr Sands said he eventually met Mrs Hanna in person in June 2017 at the Ministry of Health, which he said is a "stone's throw away" from the police Anti-Corruption Unit. When asked why he didn't take Mrs Hanna to that office, Dr Sands replied: "Not my job."
Dr Sands said he first became aware of Mrs Hanna's desire to renew her contract with the PHA sometime in late May or June of last year. At the time, Dr Sands said he told Mrs Hanna to let her work speak for itself and assured her that the process would be transparent.
The Elizabeth MP said he was first made aware of the PHA's Tender Evaluations Committee's work concerning tenders for the contract in question pursuant to a conversation with former PHA Managing Director Herbert Brown sometime between the end of July and the beginning of August 2017.
And it was at that time he said he became aware that Mrs Hanna was the preferred bidder. However, Dr Sands said he had no input on the committee's recommendations.
According to Dr Sands, at the time, Magic Touch and another company, RL Elite Housekeeping Limited, were the two lowest bidders, with RL Elite being the lowest.
RL Elite submitted a $1,173,900 bid, which was ultimately denied because the bid was "unrealistic," along with a combination of other factors.
Dr Sands said a report was prepared and sent to the PHA's executive management team, and specifically to Mr Brown and his team concerning the committee's recommendations. The next procedural step, according to Dr Sands, would have been for the matter to go to the board.
However, Dr Sands said an issue had arisen where the existing contractor was underperforming in its duties to clean the relevant portion of the Princess Margaret Hospital.
Dr Sands also said serious concerns were being expressed by executive management in the hospital on the issue, as well as by the administrative heads of the departments affected.
As a result, Dr Sands said the issue needed to be dealt with.
The minister said the issue was later raised with Mr Brown and the incoming PHA chairman, Julian Rolle, and a formal meeting was held between those three men at the Ministry of Health on August 9, 2017.
During that meeting, Dr Sands said the men discussed the decision that needed to be made as a result of the recommendation of the committee concerning the cleaning/janitorial services at PMH.
According to Dr Sands, the result of that meeting was that the matter would be placed on the agenda for the first substantive board meeting, and that notwithstanding the committee's recommendation, because it was a controversial issue, the matter should be transferred to the Office of the Attorney General in a bid to obtain legal advice.
Dr Sands said the matter was sent to the AG's Office, which in turn offered written advice on the matter. According to Dr Sands, the AG's Office noted that there was a matter before the courts against Smith; that Mrs Hanna was the virtual complainant; concerns about the appearance of "quid quo pro," a Latin phrase which in essence means a favour for a favour, and that the process needed to be fair.
However, Dr Sands said based on the information it was presented with, the AG's Office found the process to be fair and that it saw no reason why the winner of the tender process should not get the contract.
He maintained that notwithstanding the controversial nature of the decision, he approved the contract only after the matter was thoroughly vetted by the Office of the Attorney General, and based on the fact that Magic Touch was the lowest non-disqualified bidder.
Smith is facing 15 criminal charges concerning his alleged solicitation of $65,000 in bribes from a woman he is said to have assisted in getting a contract. He is currently out on $50,000 bail.
It is alleged the former PHA chairman, between April 2016 and April 2017, demanded and obtained $5,000 per month from Mrs Hanna, knowing he was not lawfully authorised to do so.
He is also alleged to have attempted to extort another $5,000 from Mrs Hanna.
Concerning the bribery charge, it is alleged that he solicited $5,000 a month from Mrs Hanna for helping her to get a PHA contract.
Smith pleaded not guilty to all the allegations during his arraignment in July 2017.