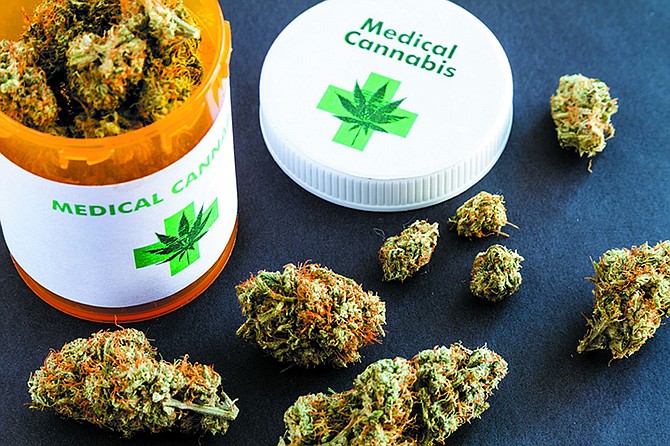 By AVA TURNQUEST
Tribune Chief Reporter
aturnquest@tribunemedia.net
THE Medical Association of The Bahamas is hosting the country's first medical marijuana symposium on Wednesday.
In July, MAB president Dr Marcus Cooper told The Tribune there had not been widespread consultation with its membership on the subject of medical marijuana, but noted it was something he planned to bring up.
Yesterday, Dr Cooper said the one-day medical conference followed an appeal by its membership for more information amidst speculation over risks and benefits.
"There has definitely been an appeal," Dr Cooper said, "people want to get more information. There has been a lot of talk, not a lot of facts presented and physicians in particular want to know what are the risks and benefits, and what are the indications.
"We have lots of speculation about its benefits. Everyone is saying it can treat everything from headaches to ingrown toenails but there has been no research backing that. Some of that has been because it's been illegal for so long, so it has been delayed.
"There is a lot of research going on," he added. "I'm sure the field will move briskly now that there is legalisation (in some countries), and maybe The Bahamas can get on it."
The Medical Marijuana Symposium for Healthcare Professionals will be held at the British Colonial Hilton starting at 5.30pm on Wednesday.
Health Minister Dr Duane Sands is expected to bring opening remarks, with listed speakers to include: Henry Lowe, renowned Jamaican food scientist; Wendell Abel, deputy chairman of CARICOM's Marijuana Commission; Dr Perry Kendall, a member of Canada's task force on marijuana legalisation; Dr Damian Cohall, senior lecturer at the University of the West Indies, Cave Hill; and Elliot Marshall, CEO of medical dispensary, Proper Rx.
The symposium will be scientific in nature and aims to educate healthcare workers on the risks, benefits and clinical indications of medical marijuana as well as current and future research.
Presenters are also expected to address some of the social implications of medical marijuana with particular attention to youth and adolescents, Dr Cooper said.
The symposium is open to all healthcare professionals for $20.