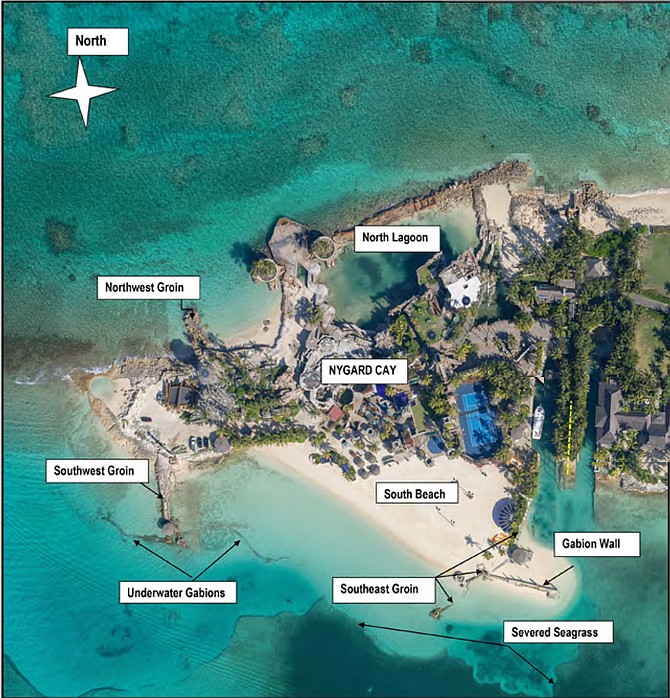 By AVA TURNQUEST
Tribune Chief Reporter
aturnquest@tribunemedia.net
THE government has given Canadian fashion mogul Peter Nygard less than a month to remove barriers he built out into the sea near his Lyford Cay home.
The deadline is the first court-enforceable order against Mr Nygard in more than a decade, and represents a settlement reached between the Lyford Cay homeowner, the government and environmental advocacy group, Save The Bays (STB) embodied in what is called a Tomlin order.
The barriers are called groynes, and are structures typically built out into the sea from a beach to impede the natural longshore transport of sand on an eroding shoreline.
A Tomlin order is issued when a court case is settled on certain conditions and, not withstanding settlement of the court case, the terms of the settlement remain enforceable in that court.
This is the latest in Mr Nygard's ongoing battle with STB over allegations the construction/development activities at his Lyford Cay home have led to a substantial extension of the property.
The group claims Mr Nygard has almost doubled the size of his property, from 3.25 acres to 6.1 acres since he acquired it in 1984, by allegedly reclaiming Crown land from the sea.
Yesterday, STB lawyer Fred Smith, QC, said: "Successive governments have ordered Nygard to remove all of his groynes. Indeed, the Ingraham administration got a $2.7m quote to remove the groynes but the 2012 election overtook that event, and the PLP government thereafter protected Nygard and his (alleged) illegal construction." 
Mr Smith continued: "STB issued their judicial review in June 2013 to prevent any further groyne expansions by Nygard, and in March of 2018, the government settled with STB on the basis that the prime minister responsible for Crown land, the Town Planning Committee, and minister of works would take action and make the decisions according to law. 
"And this has resulted in the Tomlin order by which the government issued a decision that they would require Nygard to remove the groynes within 28 days, and failing which the government would do so. 
"The difference between this government order and all the previous ones from 2010 is that this order is embodied in a court order, and so if Nygard does not remove his groynes within 28 days and the government doesn't do so after that, then STB can enforce the court order by mandamus. 
"We don't have to go back to the government or anything else," he added, "this is game over. 
"Save the Bays is watching 24/7 to make sure that the demolition order will be enforced."
The order was issued on Friday. 
Mr Nygard is due to appear in the Supreme Court to be sentenced for two contempt rulings on September 28.