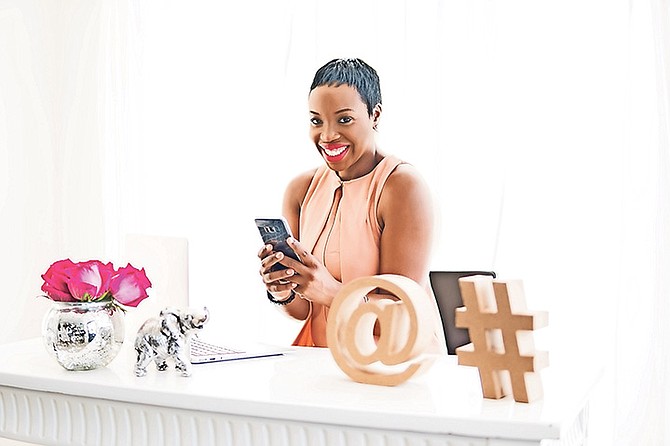 Local blogger Ianthia Smith is continuing to take her writing to the world after securing a freelance gig as a contributing writer for two popular online sites – Forbes Travel Guide and lifestyle brand XONecole.
Ianthia, who transitioned from working as a local TV anchor to being a full-time blogger nearly four years ago, has already contributed to numerous international sites and publications, and says writing for the one of the world's most trusted and respected resources in travel and business as well as an acclaimed women's beauty, lifestyle and travel site is a dream come true.
"I have waited so long and so patiently to see this day," she said. "As a writer, it has always been my mission to take my writing to the world. While I loved working in the local news business as a reporter and then a news anchor, I always had this love for entertainment and lifestyle writing and fought hard to get my name and work in the international spheres," she said.
"It's been a long time coming and none of this happened overnight. It took years of building my brand, making connections, networking, writing, increasing my social platform and just doing the work that was necessary."
As a freelance writer, Ianthia said much of her work comes from pitching her writing portfolio to international publications daily, seeking to become a writer on their roster. But with the creative field so saturated, she said persistence is the only thing that keeps her afloat.
In some cases it's taken up to two years before she's even gotten a response from some publications.
"Some of it is seemed happenstance, but all of it is hard work," she said. "There are those opportunities that seemingly fall in your lap; like the Forbes Travel Guide assignment. I 'randomly' got an e-mail one day saying that they needed an on-island writer to tour and write a review of The Cove at Atlantis and that they'd done some research and decided that I was great for the assignment. I hadn't been a reader of their site, nor was I even following them on social media, but whatever work I'd put out in the past, they found it and wanted me on board. I did the tour, sent in my article and exactly four months later the post went live on their website."
"In the case of XONecole, this was sheer perseverance, determination and a mind set to never give up. I had pitched to them at least five times in about two years, but never even got a response; it seemed like my e-mails were falling into a black hole. It was a Saturday, I was reading their website and decided to put together another pitch...something just told me the timing was right. I sent off the pitch that day and the following Monday I actually got an e-mail back from the managing editor saying they'd love to share one of the stories from my website as well as hire me as a contributing writer. Two days later, on Wednesday, I signed my papers to start my job with XONecole. I was ecstatic!"
Ianthia has already two published pieces on XONecole.com with more in the pipeline.
"I recently conducted a phone interview with a very popular reality TV star and I'm so excited to get working on that piece and see it published on the site. I'm constantly brainstorming exclusive content to write for them, pitching article topics and sending in work," she said.
The XONecole.com website is a lifestyle resource for the urban millennial woman created and run by American blogger Necole Kane. The website was recently acquired by entertainment production company Will Packer Media and CEO Will Packer whose producing credits include "Girls Trip," "Ride Along," "Think Like a Man" and "Straight Outta Compton".
The website features pieces on love and relationship, wellness, hair, makeup, skin, finance, career, marriage, travel, celebrity features and more. Ianthia said while her writing will run the gamut of topics, she will focus more on her niches: travel, career and beauty.
The XONecole.com website sees millions of readers each month, while Forbes Travel Guide is regarded as one of the most authoritative, respected and well-known resources for travel and business and is the only independent, global rating system for luxury hotels, restaurants and spas. Their motto is, "We verify luxury."
But this Bahamian blogger said even with Forbes and XONecole added to her resume, now is not the time to get complacent. These two accomplishments as just the beginning.
"I have always dreamed of seeing my byline in Essence, in Ebony, and I wouldn't mind it if Oprah's O magazine gives me a chance either," she said. "Writing is my passion and it's always been my goal to see my works in these publications that I grew up on; these publications that taught me about hair, beauty, friendships, money, that brought me closer to my idols. With more hard work I will make these dreams come true," she said.
Ianthia was actually featured in the May 2017 Essence magazine for her work as a blogger on Instagram. She also has published pieces in Sheen Magazine, the Caribbean online publication The Coco Mag, as well as women's online site Ms Vixen.
Ianthia won the 2018 Elevation Awards for Blogger of the Year and was listed among the Bahamas' 2017 top 40 under 40 influencers.
Ianthia can be found on all social media under her handle @iamianthia.