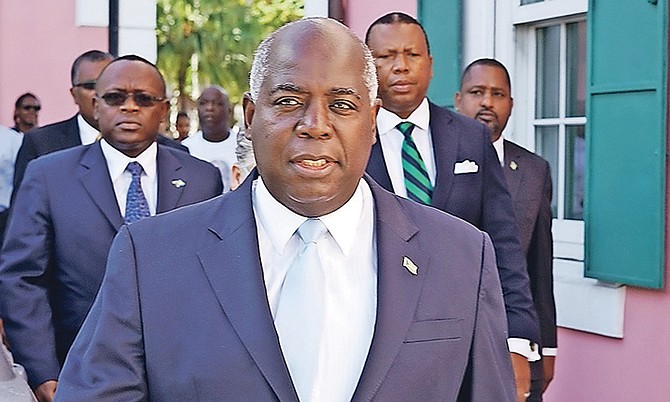 By KHRISNA RUSSELL
Deputy Chief Reporter
krussell@tribunemedia.net
PROGRESSIVE Liberal Party Deputy Leader Chester Cooper yesterday called for an independent probe into Bahamas Power and Light, which has been saddled by controversy in recent weeks.
In the aftermath of three fires at the company's Clifton Pier Power Plant and infighting among members of BPL's former board of directors, the PLP yesterday demanded full and frank disclosure of BPL's operations.
The fires further called into question power security in the country, said PLP Leader Philip "Brave" Davis.
"The Prime Minister (Dr Hubert Minnis) promised an investigation into BPL," Mr Cooper told The Tribune. "Reports are that it hasn't begun. I call on the government to appoint an independent probe.
"This cannot be one of these Cabinet sub-committees. We cannot trust this government to investigate themselves. There is too much going on with BPL to take lightly; from the allegations and counter allegations of the board to the downsizing of Bahamians and replacement by foreigners; the new Shell deal, to the fire incidences at Clifton.
"The Bahamian people want the truth. Provision of reliable power is a national security issue. Reducing the costs of electricity is critical to the fundamentals of the economy. This is all too important to ignore."
More than two weeks ago, Dr Minnis said a formal investigation would be launched into the saga at BPL and the circumstances that led to the shock dissolution of its board of directors and a bitter war of words with top officials. Up to last week Press Secretary Anthony Newbold said no team had been appointed for this investigation.
For his part, Mr Davis said the challenge the PLP has is the government's failure to comprehensively speak to issues affecting the power provider.
He said: "Power is the life blood of the economy. If you don't have it, what will you have? In all aspects in our daily lives power is a necessary component.
"What is happening at BPL? What is happening with the Shell (North America) arrangement? What is happening with providing reliable electricity and the unanswered allegations in respect to corruption as was revealed when the board members were fired and or not appointed."
"There is a necessity for the government to bring clarity and we need to know where we are headed," he continued. "Their silence is telling and alarming and also hypocritical given their mantra is transparency and accountability. They need to account and tell the Bahamian people what is happening."
Last month Mr Davis said issues at BPL were proof the government had failed to firmly implement a plan for BPL or tackle its power generation challenges.
Mr Davis at the time maintained the former Christie administration's plan for BPL was superior to this government's intentions for the company.
"We set up a structure that was going to deliver in the shortest possible time new generation, reliable and affordable services to the Bahamian people. In fact if you were to check your bill in May of 2017 you would note that your bill was in the neighbourhood of 30 cents per kilowatt hour," he said previously. 
"I think if you look at it today, it is back to pre-2012 rates and so it tells you within a very short period of time this government and through its board was not at least appreciating that there was a system in place, a structure in place to address what I call the legacy issues that impacted BEC and it was a complete answer to it.
"They scrapped it. Having scrapped it they had no alternative plan in place. So at the very least if they were going to employ their own policy of stop, review and cancel perhaps they ought to reverse it and just review first before stopping, but they are just stopping and moving on without their own plan."
He continued: "This is of concern because we are hearing about the number of consultants that are being brought in, the kind of salaries that's being expended on these consultants and what they are being brought for."