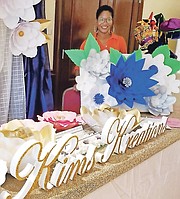 By ALESHA CADET
Tribune Features Reporter
acadet@tribunemedia.net
FLOWERS are wonders of nature. They come in all shapes, colours and sizes, and many of them are breathtakingly beautiful. They only have one major flaw: once cut, they don't keep for very long.
Enter Kimberly Wilson, a designer who gives her costumers the opportunity to create their own, personalised flowers as a keepsake.
Through her home décor business Kim's Kreations, her famous paper flowers have made their way into various events, schoolrooms and homes across the Bahamas.
"What I love most about my work is the way the client looks at the product in person. It's like their eyes light up. I also feel very accomplished when I see the paper flowers being displayed. Sometimes I get an 'a ha' moment. I have been in this field for years and every day I learn something new: a better way to make flowers, an easier way to display my work," Kimberley told Tribune Woman.
Before specialising in paper flowers, Kimberly's start-up included making Christmas wreaths for homes, for her sister's beauty salon clients, as well as decorating Christmas trees as a 'side hustle'. She was inspired by friends and family to focus on the paper flower concept.
Her home-based business now offers flower displays and rentals for weddings and various other celebratory events. Small arrangements are also available for homes, business spaces and more. And for those who believe less is more, single- flower canvas creations are offered.
"This line of work helps me with time management and is also a stress reliever. I have two teenage sons and I sometimes need a stress reliever. My sons are one of the reasons why I have been so creative in the past years," said Kimberly.
"Being more of an artistic kid growing up, my favourite hobbies were taking stuff apart to see how it worked and also assisting my father on his at-home projects whenever he allowed me to help... I was very hands-on.
"I think this was always inside me the whole time. Just another part of my creativity coming out. I usually say to myself, 'I wonder if I can make that?' And I really got mesmerised when I saw the flower wall for Kim Kardashian-West's Mother's Day. Of course I said, 'I wonder if I can make that', then I did."
One of her main goals is to have her paper flowers displayed in stores like Gucci, Movado, and hopefully within Baha Mar, amongst the other works by Bahamian artists on display at the resort.
" I see myself training and employing staff to create works of art to be used in bridal shows and international runways. For the remainder of 2018 I will be merging my love for paper flowers and door wreaths. I am also looking into creating flowers that can be used in any outdoor event. Rain or shine they wont wither or fade. Really creating flowers that last a lifetime," said Kimberly.